---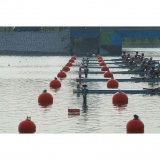 Made in: EU

Category: Main equipment for rowing channels

Technicals Features:
— Gate alignment accuracy on the start line: within 5 mm
— Gate movement speed: 2,8 m / sec
— Gate submerging time: 0,1 sec
— Gate return to start position time: 5 sec
— Gate return position accuracy: 0,5 mm
— Maximum start frequency: 10 starts / minute
Add to your inquiry to the project manager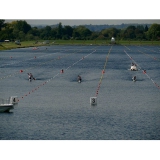 Made in: EU

Category: Main equipment for rowing channels

Technicals Features:
— Always adopted to local circumstances by our skilled engineer staff
— Installation is simple, we optimize the underwater and shore works according to customer needs
— The course can be converterd within a few hours, which makes it possible to organize canoe—kayak and rowing races right after each other
— Compatible with the Polaritas Starting System
— Beside the "turn—key" delivery and installation, we provide full technical support, including the training of local staff and a wide range of after—sale services.
Add to your inquiry to the project manager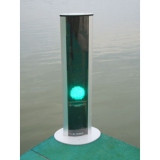 Made in: EU

Category: Main equipment for rowing channels

Technicals Features:
Technological innovation is important in today's modern rowing sport. Our automatic start system has become a standard on major regattas and there is an increasing demand for start light systems, which can complement or replace the traditional flag and command word method. Our professional RowLux system provides visual and acoustic signals to maximally support the judges in the conduction of the complex start procedure. It makes the communication between the athletes and judges straightforward in the start—zone and gives as equal chances for each boat as possible.
Add to your inquiry to the project manager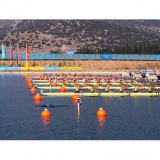 Made in: EU

Category: Main equipment for rowing channels

Technicals Features:
StartVideo is the recommended tool for evaluating events at the rowing or canoeing start line. Using a touch panel computer with a camera on the start line, the StartVideo system helps the starter judges in the evaluation of false starts.

Within a few seconds after the start, the starter judges can easily observe the events by the instant playback of the recorded video clip. By the use of the touch monitor, the video clips can be played forward or reverse, slow motion or even frame—by—frame. Using this interactive tool, the starter has the opportunity to make a quick decision about the start event and can stop the race if necessary. The recorded video clips are stored on a hard drive, ordered by heat number and marked as good or false start. The system can also be used in VCR mode, which records the start line evetns continuously, just like a conventional video recorder.
Add to your inquiry to the project manager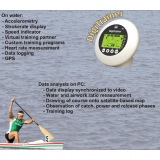 Made in: EU
Model: DigiTrainer
Type: Trainers for rowers

DigiTrainer is a new innovative product incorporating the latest state—of—the—art technologies in order to measure performance and technique of kayak, canoe, and rowing athletes. It contains a GPS, heart rate monitor, and an accelerometer which can measure the movement of the boat in all directions. From the data collected, parameters such as stroke rate, stroke power, boat stability, speed, distance, and coresponding heart rate can easily be observed. Most of this information is also displayed in real time on the instrument, helping the athletes improve their technique and performance during training.
Add to your inquiry to the project manager