Automatic Start System for canoe-kayak - certified by ICF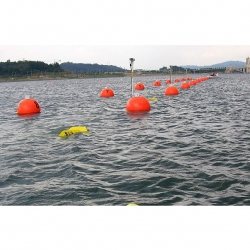 Article:

AVPR1002

Made in: EU

Starting System is constructed from high quality, heavy-duty components, which make it resistant against stormy wind and extreme waves.

The System can be assembled quickly and can be transported on a trailer.

Operation parameters:

- Gate alignment accuracy on the Start line: within 5 mm

- Gate movement speed: 2,8 m / sec

- Gate submerging time: 0,1 sec

- Gate return to start position time: 5 sec

- Gate return position accuracy: 0,5 mm

- Maximum start frequnecy: 10 starts / minute

Mechanical parameters:
Frame material: aluminium
Other materials, accessories: stainless steel
Weight gate/line: 75 kg
Transport: on trailer or in 20 feet (6 m) long containe
Maintenance period: once a year.
All above types comply with ICF (9 m) standards regarding lane width.
Another sports equipment from category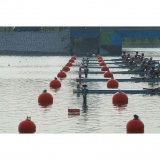 Automatic Starting System for Rowing - certified by FISA
Article:AVPR1001
Made in: EU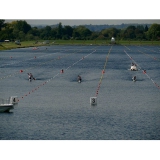 Lane Marking System for Rowing, Canoe-Kayak - certified by FISA and ICF
Article:AVPR1005
Made in: EU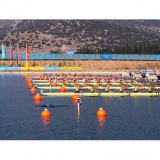 Start video system - certified by FISA / ICF
Article:AVPR1003
Made in: EU