Rowing start light system for Rowing, Canoe-Kayak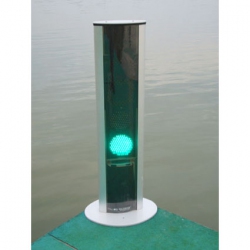 Article:

AVPR1006

Made in: EU

Technicals Features:

Technological innovation is important in today's modern rowing sport. Our automatic start system has become a standard on major regattas and there is an increasing demand for start light systems, which can complement or replace the traditional flag and command word method. Our professional RowLux system provides visual and acoustic signals to maximally support the judges in the conduction of the complex start procedure. It makes the communication between the athletes and judges straightforward in the start-zone and gives as equal chances for each boat as possible.

Main features
Good visibility even in bright sunlight

Aesthetic design

Separate signal post for each rowing lane - "Attention" and "Start" lights - "Warning", "Disqualified" and "False start" signals - Lane number or boat number display - Start and false start sound signals

Control panel and indicator lights for the starter judge

Signal lights and controls for the aligner judge - "Start gate area empty" - "Ready to start" - "False start request"

The signals can be adapted if competition rules change

Can be synchronized to the automatic start system

Can be used separately from the start system
Operation
The signal posts are placed on the start pontoon, one for each lane. The four light signals from top to bottom: yellow light, number display, red light and green light. The control box is installed in the starting tower and it can also operate the Polaritas automatic start system.

Lane or boat number
Each signal post is pre-assigned a lane number, which is constantly displayed when the system is powered. The default numbering is 0 to 7. The displayed numbers can be changed by connecting the system to a computer, which allows the judges to display other characters or boat numbers as desired.

"Attention!"
After the boats are standing in start position, the aligner judge gives the "ready to start" signal: a white light on the shore is turned on. The starter judge can now press the red "attention" button, which makes the red lights turn on until the moment of start.

"Start!"
The race gets started by pressing the green "Start" button. The system's horns emit a short sound and the green lights are turned on for a few seconds on the signal posts. For a short time following the start, the race can be stopped by the starter judge.;See the "False Start" below.

False Start
For a short time following the start (approximately within the first 100 meters), the race can be stopped by the starter judge. When this happens, the red lights flash on the signal posts and an intermittent sound is emitted by the horns for approximately 15-20 seconds.
The aligner judge can also request a False Start by pressing his/her red button. This turns on a red light and a beeping sound on the control panel to warn the starter judge.

Warning, disqualification
It the event of a false start, the starter judge gives a warning to the competitior. The yellow light flashes for a short while and remains on to indicate that a warning has been issued.
If the starter judge disqualifies an athlete, the number starts flashing on the given signal post and the turns off, indicating that the lane has been excluded from the race.
Another sports equipment from category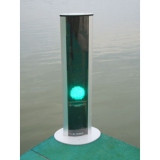 Rowing start light system for Rowing, Canoe-Kayak
Article:AVPR1006
Made in: EU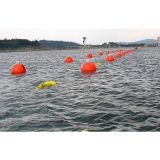 Automatic Start System for canoe-kayak - certified by ICF
Article:AVPR1002
Made in: EU
Starting System is constructed from high quality, heavy—duty components, which make it resistant against stormy wind and extreme waves.
The System can be assembled quickly and can be transported on a trailer.
Operation parameters:
— Gate alignment accuracy on the Start line: within 5 mm
— Gate movement speed: 2,8 m / sec
— Gate submerging time: 0,1 sec
— Gate return to start position time: 5 sec
— Gate return position accuracy: 0,5 mm
— Maximum start frequnecy: 10 starts / minute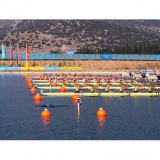 Start video system - certified by FISA / ICF
Article:AVPR1003
Made in: EU