Stadium seats M2010 Metallic console - FIBA FIFA UEFA approved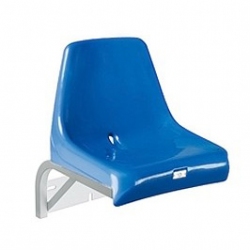 Article:

stadium-seats-m2010-metallic---fiba-fifa-uefa-approved

Made in: EU

Model: M2010 Metallic console

Category: Tribune, seats

Technicals Features:

High back seat, dimensionally complying with the recommendations of FIFA/UEFA/FIBA. Its shape allows the user to enjoy the sporting event in total comfort, without sacrifi cing strength and durability thanks to the 4 fi xing points.

OVERALL DIMENSIONS

Height 320 mm; depth 400 mm; width 420 mm.

MATERIAL

Polypropylene (PP) or polyamide (PA); injection moulded.

INSTALLATION

Directly on concrete step, on riser mounted polyamide or metallic bracket, on metal beam 2-3-4-5 seats.

FIXING

4 fixing points; the numerous ribs under the seat and behind the back reduce possible vandalism.

DRAINAGE
Central hole in the rear part for water or dirt drainage.

ACCESSORIES
PVC or aluminium numbered label secured by means of anti-tear rivets, removable padded cover in imitation leather or fabrics; me- tallic armrest with plastic pad (same color of the seat) eventually complete of glass holder.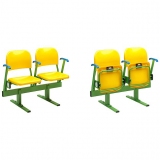 Stadium seats SR-S16M on metallic beam - UEFA recommended and FIBA approved
Article:stadium—seats—sr—s16m—su—trave—metallica—uefa—recommended—and—fiba—approved
Made in: EU
Model: SR—S16M on metallic beam
Category: Tribune, seats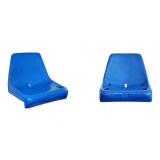 Stadium seats M2010 - FIBA FIFA UEFA approved
Article:stadium—seats—m2010———fiba—fifa—uefa—approved
Made in: EU
Model: M2010
Category: Tribune, seats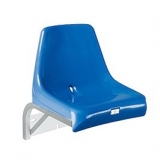 Stadium seats M2010 Metallic console - FIBA FIFA UEFA approved
Article:stadium—seats—m2010—metallic———fiba—fifa—uefa—approved
Made in: EU
Model: M2010 Metallic console
Category: Tribune, seats