Stadium seats SR-S16M on metallic beam - UEFA recommended and FIBA approved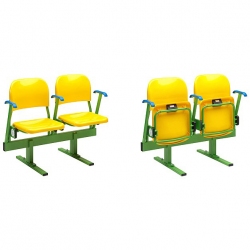 Article: stadium—seats—sr—s16m—su—trave—metallica—uefa—recommended—and—fiba—approved
Made in: EU
Model: SR—S16M on metallic beam
Category: Tribune, seats

Technicals Features:
Tip up seat, UEFA recommendations and FIBA approved. Made from polypropylene seat and back assembled on the metal tip up frame: strong, classical design, comfortable, versatile (2 available versions: riser mounted or clamped onto a metal beam).

OVERALL DIMENSIONS
Depth with folded seat 260 mm; depth with open seat 485 mm; width 460 mm.
MATERIAL
Polypropylene (PP) or polyamide (PA) seat and back; metal structure; injection moulded.
INSTALLATION
Directly on step riser, clamped onto a metal beam 2—3—4 seats, on single swivel pedestal.
FIXING
3 fixing points if installed on step riser; 2 fixing points when installed on metal beam.
DRAINAGE
Drainage by gravity with folded seat.
ACCESSORIES
Aluminium numbered label secured by means of anti-tear rivets, upholstery panels for seat and back; removable padded cover; metallic armrest with plastic pad eventually complete of glass holder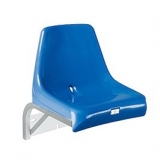 Stadium seats M2010 Metallic console - FIBA FIFA UEFA approved
Article:stadium—seats—m2010—metallic———fiba—fifa—uefa—approved
Made in: EU
Model: M2010 Metallic console
Category: Tribune, seats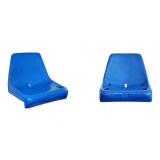 Stadium seats M2010 - FIBA FIFA UEFA approved
Article:stadium—seats—m2010———fiba—fifa—uefa—approved
Made in: EU
Model: M2010
Category: Tribune, seats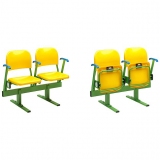 Stadium seats SR-S16M on metallic beam - UEFA recommended and FIBA approved
Article:stadium—seats—sr—s16m—su—trave—metallica—uefa—recommended—and—fiba—approved
Made in: EU
Model: SR—S16M on metallic beam
Category: Tribune, seats