Ski Jumping Timing and Scoring system - FIS Approved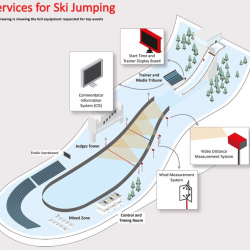 Article:

STSJ

Manufacturer: Swiss Timing (Switzerland)

Category: Scoring and Timing systems

Specifications:

Start display with starting light and acoustic horn provides the athlete with all necessary timing information

Speed Module can evaluate inrun speeds on using light barriers.

Trainer Scoreboard presents the athlete data on its double spaced 12 digits display.

Speed Display is a compact sized 4digits display, used for indicating the inrun speed.

The anemometers match our dedicated wind monitoring software perfectly

Scoring & Management application for Ski Jumping offers all relevant functions to prepare, manage and run Ski Jumping events and competitions.

Video Distance Measurement System (VDMS) provides an easy to use digital solution for measuring the distance of a ski jump.

Sertifcates : FIS Approved

General Description: Proposed by the Swiss company "Swiss Timing" Scoring and Timing system for ski jumping of judging its functions and a complete set to a large extent depend on the configuration sports arena in which they are installed, and the level of sporting activities to be conducted with it. If you need to present the system of judging and timing - refer to our managers. They will help you decide on the necessary equipment and will answer all your questions about options, costs, delivery dates, etc. of the system.
Another sports equipment from category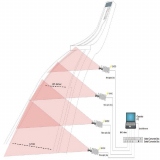 Video distance measurement system for ski jumping
Camera specifications:
— HD video output allowing: 1920x1080i or 1280x720p
— 15 – 25m field of view per camera
— Optical 10x zoom (F1.8 – F2.1)
— Max. 1/10.000s shutter speed
— Automatic or remote controls: Manual iris: F1.8 – F26; Manual gain control: —3dB – +18dB
— Infrared mode
Manufacturer Swiss Timing (Switzerland)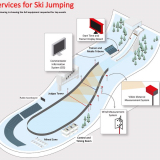 Ski Jumping Timing and Scoring system - FIS Approved
Article:STSJ
Manufacturer: Swiss Timing (Switzerland)
Category: Scoring and Timing systems
Specifications:
Start display with starting light and acoustic horn provides the athlete with all necessary timing information
Speed Module can evaluate inrun speeds on using light barriers.
Trainer Scoreboard presents the athlete data on its double spaced 12 digits display.
Speed Display is a compact sized 4digits display, used for indicating the inrun speed.
The anemometers match our dedicated wind monitoring software perfectly
Scoring & Management application for Ski Jumping offers all relevant functions to prepare, manage and run Ski Jumping events and competitions.
Video Distance Measurement System (VDMS) provides an easy to use digital solution for measuring the distance of a ski jump.
Sertifcates: FIS Approved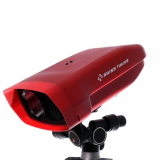 OMEGA SCAN'O'VISION MYRIA 10 Camera
Article: 3503.910
Acquisition speed: 500 to 2'000 lines per seconds or 500 to 10'000 lines per seconds
Resolution: 2048 pixels (at any speed)
Nbr. of color per pixel: >16 millions
Time base precision: ±0.1ppm (oven—controlled)
Transmission: Ethernet 1Gb/s (PoE PD), 9kB jumbo frame, IEEE 802.3at (25W), IEEE 1588 (Precision Time Protocol)
Max. distance between camera and computer: 100m (Cat5e Ethernet cable)
Working temperature: 0°C to +50°C
Storage temperature: —20°C to +70°C
Protection: IP55
Camera dimension: 415 x 270 x 143mm (LxWxH)
Camera weight: 3.6 kg