OMEGA SCAN'O'VISION MYRIA 10 Camera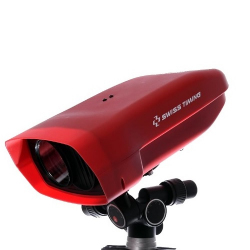 Article:

3503.910

Acquisition speed: 500 to 2'000 lines per seconds or 500 to 10'000 lines per seconds

Resolution: 2048 pixels (at any speed)

Nbr. of color per pixel: >16 millions

Time base precision: ±0.1ppm (oven-controlled)

Transmission: Ethernet 1Gb/s (PoE PD), 9kB jumbo frame, IEEE 802.3at (25W), IEEE 1588 (Precision Time Protocol)

Max. distance between camera and computer: 100m (Cat5e Ethernet cable)

Working temperature: 0°C to +50°C

Storage temperature: -20°C to +70°C

Protection: IP55

Camera dimension: 415 x 270 x 143mm (LxWxH)

Camera weight: 3.6 kg

Lens (included in camera housing)

Zoom ratio: 10x

Vertical field angle: 6.5° to 58.8°

Max. aperture: F1.4

Minimum object distance: 1.2m

Remote control: Zoom, Aperture, Focus

Manufacturer Swiss Timing (Switzerland)

OMEGA Scan'O'Vision MYRIA camera lets you align the camera very easily on any finish line using a video image.
A 10x optical zoom lens is integrated in the camera housing. It is fully remote controlled (zoom, iris and focus). It allows setting the camera in almost any location and having a perfect image framing.
OSV MYRIA camera is weather proof. Its temperature sensor will automatically control the internal fan.
Another sports equipment from category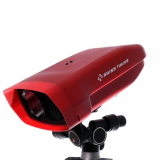 OMEGA SCAN'O'VISION MYRIA 10 Camera
Article: 3503.910
Acquisition speed: 500 to 2'000 lines per seconds or 500 to 10'000 lines per seconds
Resolution: 2048 pixels (at any speed)
Nbr. of color per pixel: >16 millions
Time base precision: ±0.1ppm (oven—controlled)
Transmission: Ethernet 1Gb/s (PoE PD), 9kB jumbo frame, IEEE 802.3at (25W), IEEE 1588 (Precision Time Protocol)
Max. distance between camera and computer: 100m (Cat5e Ethernet cable)
Working temperature: 0°C to +50°C
Storage temperature: —20°C to +70°C
Protection: IP55
Camera dimension: 415 x 270 x 143mm (LxWxH)
Camera weight: 3.6 kg