Cycling Track timing system - UCI Approved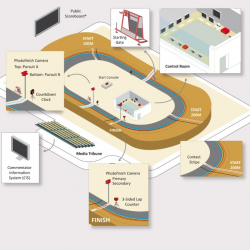 Article:

STCT

Manufacturer: Swiss Timing (Switzerland)

Category: Scoring and Timing Systems

Specifications: The system include rack with timers, transponder system, photofinish cameras Myria, Starting semaphors and gates, Scoreboard of running time or video LED Display and etc.

Settings and integration of this system are highly dependent on the configuration of a sports facility.

Sertifcates : UCI compliance

General Description:

The Swiss company "Swiss Timing" offers scoring and timing systems for the sports industry. The single features and complete sets strongly depend on the configuration of the sports arena in which they are installed and the level of sporting activities to be conducted. If you want to implement a scoring and timing system - please refer to our managers. They will help you decide on the appropriate equipment and will answer all your questions about options, costs, delivery dates, etc. of the system.
Another sports equipment from category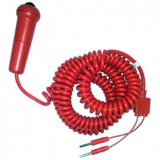 Button judge-timekeeper OIT5
Article: 3498.701
Manufacturer: Swiss Timing (Switzerland)
Model: OIT5
Category: part of refereeing and timing systems
Specifications:
— In the free position is open button;
— Connectors such as "banana"
— waterproof and handy with spiral cable 1,25м
— Protection IP67
Certifcates: FINA demand compliance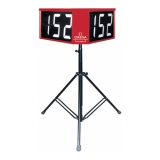 Lap Counter
Article: 3442.911
Power supply: 115 — 230 VAC 50/60Hz
Power consumption: Max 0.6A
Data transmission: RS422, 9600 Bauds, 8 data bit, no parity, 1 stop bit
Dimension without tripod: 750 x 650 x 510 mm
Weight without tripod: 15.6kg
Height of digits: 260 mm
Viewing distance, up to: 130 m
Horizontal viewing angle: 110o
Display type: Amber LED (150 LEDs per digit)
Display luminosity: 15 steps adjusted manually or automatically with a light sensor.
Protection: IP54
Manufacturer Swiss Timing (Switzerland)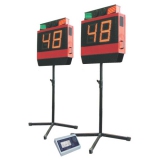 TRACKER - Start Semaphores / Lap counters
Article: 3442.901
Housing width: 640 mm (690 mm with handles)
Housing: 715 x 155 mm (H x D)
Digit height: 26 cm
Support height: adjustable 1040 to 1490 mm
Weight with support: 21.6 kg
Backup battery life: 4 hours
Power supply: 115—230 VAC, 50/60 Hz
Power consumption: 100 VA
Countdown sound: Beep (500 and 1000 Hz)
Countdown start: Bang or beep
Last Lap indication sound: Bell (synthesised)
Volume: Adjustable, up to 102 dB
Integrated keypad: 4 keys (clear, lap +, lap—, bell control)
Operating temperature: 0° to 50°C
Storage temperature: —10° to +50°C
Protection: IP 55
Manufacturer Swiss Timing (Switzerland)