Timing scoreboard Gemini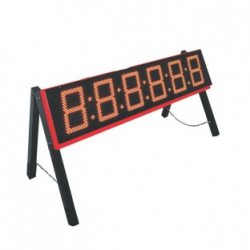 Article:

3449.961

Manufacturer: Swiss Timing (Switzerland)

Category: Scoring and Timing systems

Specifications: The Gemini is a modular 9-or 6 digit or 12 alphanumerical characters scoreboard that uses LED technology and allows indoor as well as outdoor applications with IP54. The height of LED's 24cm. for digits and 20cm. for alphanumeric display

Housing dimensions/Weight:

type 9 digits: 2400x340x94 mm., / 15,3 kg.

type 6 digits: 1460x340x94 mm., / 10,2 kg.

type 12 alfanum: 2400x340x94 mm., / 15,7 kg.

Certifications: CE and RoHS

General Description:
Full compliance is granted for timing products such as athletics, cycling, speed skating, ski and horse jumping via the Swiss Timing protocol.
The Swiss company "Swiss Timing" offers scoring and timing systems for the sports industry. The single features and complete sets strongly depend on the configuration of the sports arena in which they are installed and the level of sporting activities to be conducted. If you want to implement a scoring and timing system - please refer to our managers. They will help you decide on the appropriate equipment and will answer all your questions about options, costs, delivery dates, etc. of the system.
Another sports equipment from category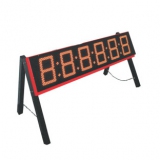 Timing scoreboard Gemini
Article: 3449.961
Manufacturer: Swiss Timing (Switzerland)
Category: Scoring and Timing systems
Specifications:The Gemini is a modular 9—or 6 digit or 12 alphanumerical characters scoreboard that uses LED technology and allows indoor as well as outdoor applications with IP54. The height of LED's 24cm. for digits and 20cm. for alphanumeric display
Housing dimensions/Weight:
type 9 digits: 2400x340x94 mm., / 15,3 kg.
type 6 digits: 1460x340x94 mm., / 10,2 kg.
type 12 alfanum: 2400x340x94 mm., / 15,7 kg.
Certifications:CE and RoHS