Scoring and Timing Systems for Cross Country and Biathlon - FIS Approved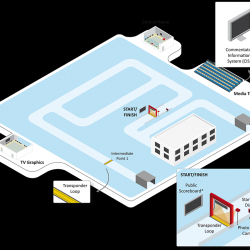 Article:

STCC

Manufacturer: Swiss Timing (Switzerland)

Category: Scoring and Timing systems

Specifications: Start display with starting light and acoustic horn, The start gate for individual and sprint events, Scoreboard of running time or video LED Display for Cross Country, special timer with backup, Transponder system, Photofinish camera Myria, PC with Partcipants and competition management software, HD - finish video replay system and etc.

Settings and integration of this system are highly dependent on the configuration of a sports facility.

Sertifcates : FIS Approved

General Description:

The Swiss company "Swiss Timing" offers scoring and timing systems for the sports industry. The single features and complete sets strongly depend on the configuration of the sports arena in which they are installed and the level of sporting activities to be conducted. If you want to implement a scoring and timing system - please refer to our managers. They will help you decide on the appropriate equipment and will answer all your questions about options, costs, delivery dates, etc. of the system.
Another sports equipment from category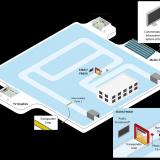 Scoring and Timing Systems for Cross Country and Biathlon - FIS Approved
Article:STCC
Manufacturer: Swiss Timing (Switzerland)
Category: Scoring and Timing systems
Specifications: Start display with starting light and acoustic horn, The start gate for individual and sprint events, Scoreboard of running time or video LED Display for Cross Country, special timer with backup, Transponder system, Photofinish camera Myria, PC with Partcipants and competition management software, HD — finish video replay system and etc.
Settings and integration of this system are highly dependent on the configuration of a sports facility.
Sertifcates: FIS Approved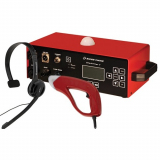 Egun - StartTime V acoustic start device
Article: 3481.931
Main unit dimensions: 376 x 215 x 245mm w/o Connectors
Microphone dimensions: 118 x 25 x 80 mm. + 7 meter cable
E—GUN dimensions 280 x 35 x 140 mm + 7 meter cable
Alarm "low battery": Yes, 4 levels indicated as battery symbol (Empty, Low, Medium, Full)
Protection class: IP41
Power: Built in 12 Volt / 7 Ah Sealed lead—acid battery
Standby time: 24 Hours (1000 starts). After this, the unit should still be operable for 1 hour.
The self—discharge time is approximately 12 months if not in use.
An external 12V Lead/Acid battery (car battery) connected to the charger input, could be used if extended operation time is needed.
Charger: Max. initial current: 1.0 Ah (only for use in dry environment).
Speakers: Load 3.2 — 16 Ohms
Output speakers: @13.2 Volts, 3.2 Ohms, 1 kHz Typical: 2 * 13 Watt with < 10 % Distortion Maximum: 2 * 19 Watts with 10 % Distortion
Storage temperature: —20ºC to +65ºC
Working temperature: —10ºC to +65ºC
Relative humidity: (20%—80%) without condensation
Manufacturer Swiss Timing (Switzerland)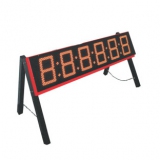 Timing scoreboard Gemini
Article: 3449.961
Manufacturer: Swiss Timing (Switzerland)
Category: Scoring and Timing systems
Specifications:The Gemini is a modular 9—or 6 digit or 12 alphanumerical characters scoreboard that uses LED technology and allows indoor as well as outdoor applications with IP54. The height of LED's 24cm. for digits and 20cm. for alphanumeric display
Housing dimensions/Weight:
type 9 digits: 2400x340x94 mm., / 15,3 kg.
type 6 digits: 1460x340x94 mm., / 10,2 kg.
type 12 alfanum: 2400x340x94 mm., / 15,7 kg.
Certifications:CE and RoHS