Egun - StartTime V acoustic start device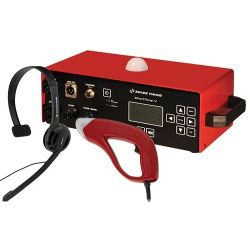 Article:

3481.931

Main unit dimensions: 376 x 215 x 245mm w/o Connectors

Microphone dimensions: 118 x 25 x 80 mm. + 7 meter cable

E-GUN dimensions 280 x 35 x 140 mm + 7 meter cable

Alarm "low battery": Yes, 4 levels indicated as battery symbol (Empty, Low, Medium, Full)

Protection class: IP41

Power: Built in 12 Volt / 7 Ah Sealed lead-acid battery

Standby time: 24 Hours (1000 starts). After this, the unit should still be operable for 1 hour.

The self-discharge time is approximately 12 months if not in use.

An external 12V Lead/Acid battery (car battery) connected to the charger input, could be used if extended operation time is needed.

Charger: Max. initial current: 1.0 Ah (only for use in dry environment).

Speakers: Load 3.2 - 16 Ohms

Output speakers: @13.2 Volts, 3.2 Ohms, 1 kHz Typical: 2 * 13 Watt with < 10 % Distortion Maximum: 2 * 19 Watts with 10 % Distortion

Storage temperature: -20ºC to +65ºC

Working temperature: -10ºC to +65ºC

Relative humidity: (20%-80%) without condensation

Manufacturer Swiss Timing (Switzerland)

The electronic start system StartTime IV is used in several sport like athletics (AT), swimming
(SW), Speed Skating (SS) with Start & Microphone unit (SMU) or e-GUN.
The electronic start system is composed of a flash gun and a sound generation box.
When the starter active the gun trigger, simultaneously, a sound is played, a flash is emitted and a
start pulse is given to the timing device.
By pressing the trigger a second time within a programmable delay, the false start sound will be
played. The sounds can be changed / downloaded by a computer with a RS422 serial line.
StartTime IV has 2 started out connections, a telephone line allowing to connect a telephone
headset for better communication and can manage up to 3 different sports or disciplines.
It also features a multifunction LCD display, an enhanced internal amplifier, a keypad to select from
the various setup possibilities, a high fidelity loudspeaker and an integrated optical flash.
A line out allows optional loudspeakers to be connected to deliver the start signal as close as
possible and simultaneously to each athlete.
A microphone unit enables the starter to give the start signal while amplifying all the verbal
commands.
Two LEDs indicators on the microphone unit show the status of the timer device.
The StartTime IV unit also features the connectivity for an optional external microphone and
headset.
StartTime IV can be paired with the brand new e-GUN electronic starting device.
The new generation flash gun replaces powder gun and transducer to signal the start to the
athletes and trig the timing devices.
Another sports equipment from category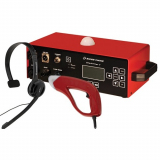 Egun - StartTime V acoustic start device
Article: 3481.931
Main unit dimensions: 376 x 215 x 245mm w/o Connectors
Microphone dimensions: 118 x 25 x 80 mm. + 7 meter cable
E—GUN dimensions 280 x 35 x 140 mm + 7 meter cable
Alarm "low battery": Yes, 4 levels indicated as battery symbol (Empty, Low, Medium, Full)
Protection class: IP41
Power: Built in 12 Volt / 7 Ah Sealed lead—acid battery
Standby time: 24 Hours (1000 starts). After this, the unit should still be operable for 1 hour.
The self—discharge time is approximately 12 months if not in use.
An external 12V Lead/Acid battery (car battery) connected to the charger input, could be used if extended operation time is needed.
Charger: Max. initial current: 1.0 Ah (only for use in dry environment).
Speakers: Load 3.2 — 16 Ohms
Output speakers: @13.2 Volts, 3.2 Ohms, 1 kHz Typical: 2 * 13 Watt with < 10 % Distortion Maximum: 2 * 19 Watts with 10 % Distortion
Storage temperature: —20ºC to +65ºC
Working temperature: —10ºC to +65ºC
Relative humidity: (20%—80%) without condensation
Manufacturer Swiss Timing (Switzerland)