Acoustic start device StartTime V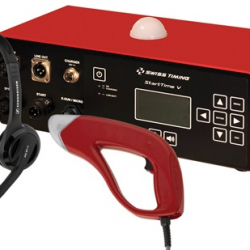 Article: 3481.931
Manufacturer: Swiss Timing (Switzerland)
Model: StartTime V
Category: Part of refereeing and timing systems
Specifications: Used for short track, speed skating, cross country, athletic and other sports. Protection: IP64
Power supply : integrated 12V/7Ah lead—acid battery
Charger : included, Battery autonomy : more than 1000 starts before recharge
This is the 5th generation of STARTTIME, featuring a multifunctionLCD display and keypad for selection of the various setup possibilities.
The STARTTIME V composed of a flash gun and a sound generation box. It amplifies verbal commands and transmits start signal directly from the E-Gun or the microphone to the timing device. Enhanced internal amplifier and HiFi loudspeaker. Several sounds are available and can be changed. Two LEDs on the E-Gun or the microphone indicate the status of the timer device. STARTTIME
V should be positioned where the athletes can see the flash. An additional external flash or chain of flashes can be connected to the unit, and positioned where it is most required. A chain of loudspeakers can be connected, to deliver the start signal as close as possible to each athlete, so that they all hear the start simultaneously. The relative volumes of the spoken command and the start signal are controlled individually by menu commands, as well as all controls and parameters.
Another sports equipment from category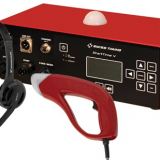 Acoustic start device StartTime V
Article: 3481.931
Manufacturer: Swiss Timing (Switzerland)
Model: StartTime V
Category: Part of refereeing and timing systems
Specifications: Used for short track, speed skating, cross country, athletic and other sports. Protection: IP64
Power supply : integrated 12V/7Ah lead—acid battery
Charger : included, Battery autonomy : more than 1000 starts before recharge