Eagle Flex 6.1. IAAF certificate.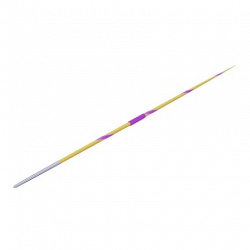 Article: AVNO0019
Weight: 600 g.
All-round javelin that is suitable for all conditions. Softer than equivalent carbon model. Requires very good capacity both technically and physically with the thrower. Made in EU.
Another sports equipment from category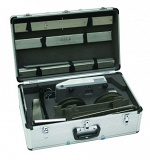 IAAF implement certification kit
Article: AVDM1154
IAAF compliant.
This implement certification kit assures that each implement meets specifications (discus, javelin, shot, hammer).
Each gauge is laser cut stainless steel for extreme accuracy and permanency.
Implement scale included.
European plug adaptater not included.
Made in EU.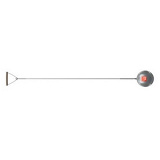 Hammer Stainless Steel. IAAF certificate.
Article: AVNO0092
Weight: 6.0 kg.
Diameter: 110 mm.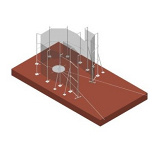 IAAF aluminum hammer cage with galvanized steel doors and ground sleeves
Article: AVDM1098
IAAF Approved and certified n°E—99—0090.
All frames are reinforced by an interior collar casing up to a height of 2.40 m, thereby avoiding any breaking point. Nets (in rot—proof braided 5 mm diameter polypropylene, 40 x 40 mm mesch, high resistance, black, EN—1263—1 certified) are mounted "floating" in order to avoid any "danger of ricochet or rebound towards the athlete and over the cage` according to I.A.A.F rules. Easy raising and lowering of the net using nylon rollers. Delivered with sleeves and nets. Made in EU.