Indoor shot put throwing landing system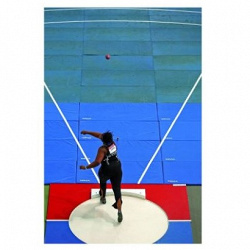 Article: AVDM1111
Level: 2
42mm thick landing system ideal for indoor shot put throwing.
Made from non—bouncy, molded polyurethane foam.
Density 140kg/sqm
Dimensions of one mat: 200x100cm
Made in EU.
Indoor shot put throwing landing system 42 mm thick per SQM
Another sports equipment from category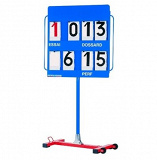 Performance indicator cart
Article: AVDM1174
Essential for championships, the Performance indcator cart allows to follow the performances of the athletes.
Rotates 360° for good visibility.
Delivered with digit blocks.
Powder coated steel frame.
Made in EU.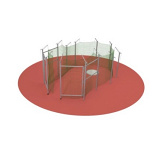 Hammer Cage Alu. IAAF certificate.
Article: AVNO0094
Height 8 m, gate height 10.5 m.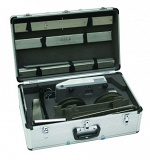 IAAF implement certification kit
Article: AVDM1154
IAAF compliant.
This implement certification kit assures that each implement meets specifications (discus, javelin, shot, hammer).
Each gauge is laser cut stainless steel for extreme accuracy and permanency.
Implement scale included.
European plug adaptater not included.
Made in EU.