Painted aluminum international hurdle. IAAF certificate.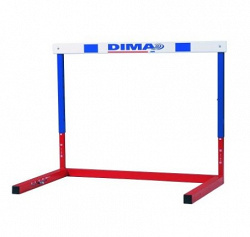 Article:

AVDM1070

Hurdle construction made from aluminium, PVC lath.

Adjustable heights: 65 - 76 - 84 - 91 - 99 - 106 cm.

Colour: Blue, red, white.

Compliance with: I.A.A.F certified n° E-10-0595.

Racks and base with plastic caps for safety and aesthetic appearance. Simple system for setting the height of the lath. Made in EU.
Another sports equipment from category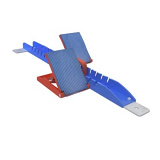 Starting Block Elite Wide. IAAF certificate.
Article: AVNO0050
A top class block with wider pedals. Rubber faced pedals made of aluminium. Rail made of aluminium profile. Made in EU.
Dimakid hurdles - Set of 6
Article: AVDM1196
DIMAKID hurdles are perfectly suitable for athletic's schools and track work.
3 hurdles height 20 cm.
3 hurdles height 40 cm.
Made in EU.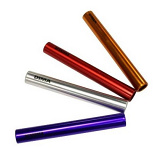 Aluminum relay batons
Article: AVDM1172
Lenght:
[29.5cm. Diametre:] 38.5mm.
Set of 4 batons.
IAAF certified.
Anodised aluminum relay batons with 4 different colors. Made in EU.