Painted International hurdle. IAAF certificate.
Article:

AVDM1072

Hurdle construction made from epoxy painted steel, PVC lath.

Adjustable heights: 65 - 76 - 84 - 91 - 99 - 106 cm.

Colour: Blue, red, white.

Compliance with: I.A.A.F certified n° E-99-0086.

Racks and base with plastic caps for safety and aesthetic appearance. Simple system for setting the height of the lath. Ergonomic aluminum handle for height adjustment at the touch of a button. Made in EU.
Another sports equipment from category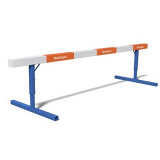 Steeplechase Hurdle 5 m. IAAF certificate.
Article: AVNO0059
Length: 5 m.
Adjustable height.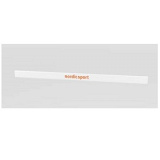 Hurdle Crossbar Alu-Matic
Article: AVNO0055
Hurdle crossbar of weatherproof plastic 120 cm. This is to be used on Alu Matic hurdles and old Alu Viking hurdles. Made in EU.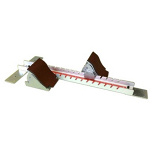 Сompetition starting blocks. IAAF certificate.
Article: AVDM1083
Colour: Grey, brown
Compliance with: I.A.A.F Certified n° E—02—0340
Nice—looking model, heavy, stable and highly technical.
Wide center rail in extruded aluminium, very rigid with 18 adjustment options. 4 block angle positions. Blocks interchangeable with synthetic pads. Delivered with spikes and pins to hold the starting block on synthetic or cinder track. Made in EU.