Painted International hurdle. IAAF certificate.
Article:

AVDM1072

Hurdle construction made from epoxy painted steel, PVC lath.

Adjustable heights: 65 - 76 - 84 - 91 - 99 - 106 cm.

Colour: Blue, red, white.

Compliance with: I.A.A.F certified n° E-99-0086.

Racks and base with plastic caps for safety and aesthetic appearance. Simple system for setting the height of the lath. Ergonomic aluminum handle for height adjustment at the touch of a button. Made in EU.
Another sports equipment from category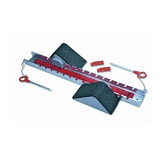 Schools Starting blocks
Article: AVDM1086
Colour: Grey, red, black.
Center rail with 14 adjustment options. Blocks made of aluminium and has rubber pads. Delivered with spikes and pins to hold the starting block on tracks. Made in EU.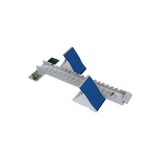 Competition starting blocks. IAAF certificate.
Article: AVDM1184
This model is equipped with extra wide pedals/blocks for easy start with more efficiency.
Wide center rail made from extruded aluminum with 18 possible adjustments. Pedals adjustable to 4 different angles. Comes with spikes for use on synthetic tracks. Made in EU.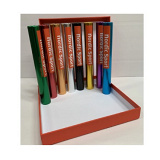 Relay Batons Aluminum. IAAF certificate.
Article: AVNO0061
Set of eight relay batons of anodized aluminium. Made in EU.