School hurdle set of 6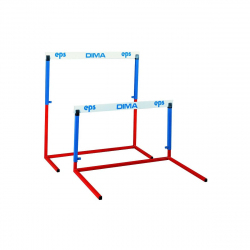 Article:

AVDM1192

10 possible height adjustments.

Heights: 55 - 60 - 65 - 70 - 76 - 84 - 91 - 96 - 99 - 106 cm - Width: 1m

Sturdy and easy to handle, Lacquered steel construction, supplied with protective rubber end pieces. The PVC hurdle board is set on rubber supports for greater safety and less apprehension. Automatic height adjustments.
Made in EU.
Another sports equipment from category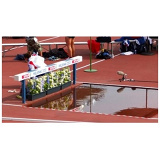 Steeplechase Water Pit. IAAF certificate.
Article: AVNO0054
Under structure of powder coated steel with hurdle bar of strong wood. For concrete embedment. Length 366 cm. Adjustable height. Made in EU.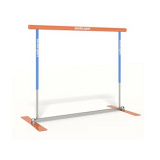 Spring Back Hurdle Elite
Article: AVNO0056
Heights: 686, 762, 838, 914, 991 and 1067.
Spring back hurdle for training with official IAAF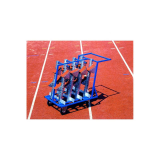 Compact starting blocks cart
Article: AVDM1185
Essential cart to carry and store 8 starting blocks.
Easy to use, nice design, very maneuvrable. Equipped with a handle for easy maneuvering.
Mounted on 4 100mm wheels (2 fixed wheels and 2 swiveling wheels). Made in EU.