Set of 4 shotclocks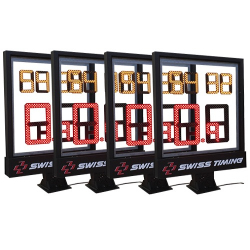 Article:

3510.934

Dimensions: 716 x 1023 mm

Weight: 22kg

Power supply: 110-240 VAC

Horn: build in shot clock buzzer

Digits: 30cm LED (red) and 13.5cm LED (red) for tenth of seconds and 16 cm LED (amber) for game clock.

Approved by FIBA for competitions level 1&2

Manufacturer Swiss Timing (Switzerland)

Set of 4 transparent double-sided shot clocks (2 stanchions) with game clock and integrated backstop. Durable construction in glass.
Another sports equipment from category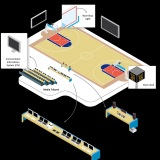 Scoring and Timing systems for basketball - FIBA Approved
Article:STBB
Manufacturer: Swiss Timing (Switzerland)
Category: Scoring and Timing systems
Specifications: Main controller Saturn, Scoreboard Saturn or Video SCB, Shot clocks, Dressing room clocks, horn and etc.
Settings and integration of this system are highly dependent on the configuration of a sports facility.
Sertifcates: FIBA Approved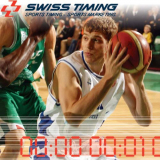 Scoring and Timing systems for basketball 3x3 - FIBA Approved
Article:STB3
Manufacturer: Swiss Timing (Switzerland)
Category: Refereeing and timing systems
SYSTEM COMPONENTS:
■ Shot clock display
■ Timing console
■ Shot clock remote controller (Start/Stop/
Reset)
■ Cables & universal power supply (100—240V)
Fully synchronized with the FIBA tming & scoring entry system
Sertifcates: FIBA Approved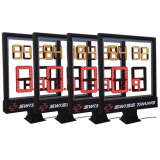 Set of 4 shotclocks
Article: 3510.934
Dimensions: 716 x 1023 mm
Weight: 22kg
Power supply: 110—240 VAC
Horn: build in shot clock buzzer
Digits: 30cm LED (red) and 13.5cm LED (red) for tenth of seconds and 16 cm LED (amber) for game clock.
Approved by FIBA for competitions level 1&2
Manufacturer Swiss Timing (Switzerland)