OMEGA SATURN 2.900 Shot cloks 1/10" single side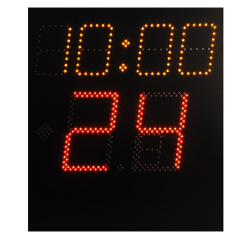 Article:

3500.993.12

Dimensions: 680x600x92 mm.

Weight: 9 kg.

Power: 115/230 VAC.

Digits of 250 mm red LED and 150 mm amber LED for game clock.

Internal horn.

Certifications: FIBA level 1 & 2

Manufacturer Swiss Timing (Switzerland)

Set of 2 shot clocks with game clock. Can be mounted on the basket structure. 3 devices can be mounted in triangle.
Another sports equipment from category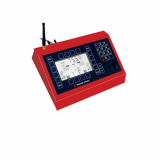 OMEGA Multisport controller SATURN 2
Article: 3500.900
Keyboard: 34 keys (of which 16 are software dependent – in relation with the screen). Game time Start / Stop switch.
Display: 5.4" graphics (240 x 128 pixels) B/W
Power consumption: 115—230 VAC (adapter)
Protection: IP43
Dimensions: 285x210x84 mm
Weight: 1.5 kg
Manufacturer Swiss Timing (Switzerland)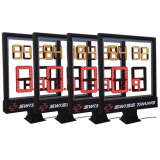 Set of 4 shotclocks
Article: 3510.934
Dimensions: 716 x 1023 mm
Weight: 22kg
Power supply: 110—240 VAC
Horn: build in shot clock buzzer
Digits: 30cm LED (red) and 13.5cm LED (red) for tenth of seconds and 16 cm LED (amber) for game clock.
Approved by FIBA for competitions level 1&2
Manufacturer Swiss Timing (Switzerland)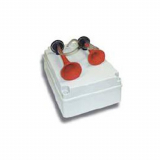 OMEGA SATURN External Horn
Article: 3400.786
Material: Steel / Plastic
Color: White
Dimensions: 310 x 230 x 130 mm
Weight: 3,9 kg
Power supply: 100 VA
Sound power: 113,4 dB (pneumatic horn)
Manufacturer Swiss Timing (Switzerland)