TRACKER - Start Semaphores / Lap counters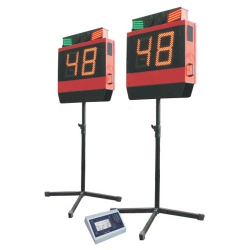 Article:

3442.901

Housing width: 640 mm (690 mm with handles)

Housing: 715 x 155 mm (H x D)

Digit height: 26 cm

Support height: adjustable 1040 to 1490 mm

Weight with support: 21.6 kg

Backup battery life: 4 hours

Power supply: 115-230 VAC, 50/60 Hz

Power consumption: 100 VA

Countdown sound: Beep (500 and 1000 Hz)

Countdown start: Bang or beep

Last Lap indication sound: Bell (synthesised)

Volume: Adjustable, up to 102 dB

Integrated keypad: 4 keys (clear, lap +, lap-, bell control)

Operating temperature: 0° to 50°C

Storage temperature: -10° to +50°C

Protection: IP 55

Manufacturer Swiss Timing (Switzerland)

The TRACKER system is used to manage the start of pursuit races in track cycling events.
It consists of two TRACKER boards and a main judge console. It displays the countdown
and generates some sounds during the countdown. At the end of the countdown, it opens
the optional starting gates and gives the start impulse to the main timing system. After the
start, the TRACKER is used as lap counter and can indicate the leader with green and red
semaphores.
Another sports equipment from category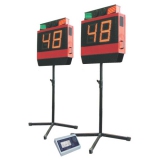 TRACKER - Start Semaphores / Lap counters
Article: 3442.901
Housing width: 640 mm (690 mm with handles)
Housing: 715 x 155 mm (H x D)
Digit height: 26 cm
Support height: adjustable 1040 to 1490 mm
Weight with support: 21.6 kg
Backup battery life: 4 hours
Power supply: 115—230 VAC, 50/60 Hz
Power consumption: 100 VA
Countdown sound: Beep (500 and 1000 Hz)
Countdown start: Bang or beep
Last Lap indication sound: Bell (synthesised)
Volume: Adjustable, up to 102 dB
Integrated keypad: 4 keys (clear, lap +, lap—, bell control)
Operating temperature: 0° to 50°C
Storage temperature: —10° to +50°C
Protection: IP 55
Manufacturer Swiss Timing (Switzerland)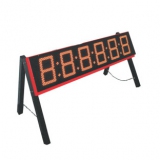 Timing scoreboard Gemini
Article: 3449.961
Manufacturer: Swiss Timing (Switzerland)
Category: Scoring and Timing systems
Specifications:The Gemini is a modular 9—or 6 digit or 12 alphanumerical characters scoreboard that uses LED technology and allows indoor as well as outdoor applications with IP54. The height of LED's 24cm. for digits and 20cm. for alphanumeric display
Housing dimensions/Weight:
type 9 digits: 2400x340x94 mm., / 15,3 kg.
type 6 digits: 1460x340x94 mm., / 10,2 kg.
type 12 alfanum: 2400x340x94 mm., / 15,7 kg.
Certifications:CE and RoHS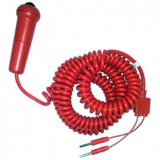 Button judge-timekeeper OIT5
Article: 3498.701
Manufacturer: Swiss Timing (Switzerland)
Model: OIT5
Category: part of refereeing and timing systems
Specifications:
— In the free position is open button;
— Connectors such as "banana"
— waterproof and handy with spiral cable 1,25м
— Protection IP67
Certifcates: FINA demand compliance