Starting gate cycling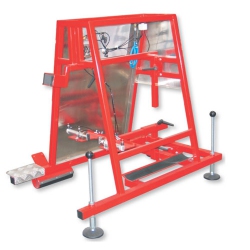 Article:

3358.900

Dimensions: 1110 x 800 x 1000 mm (LxWxH)

Weight: 60.2 kg

Service pressure: 4.5 to 6.0 bars

Supply pressure: 200 bars

Working temperature: 0°to +50°C

Storage temperature: -10° to +35°C

Protection: IP51

Recommended gas: N2 (nitrogen)

Bottle length: up to 70 cm

Diameter: up to 15 cm (recommended: 10 cm)

Bottle capacity: 2 to 10 liters (recommended: ~4 liters)

Fill pressure: 200 bars

Hose diameter: 5.5 mm internal 8 mm external

Manufacturer Swiss Timing (Switzerland)

The system is used by Swiss Timing and UCI official timekeepers worldwide. It is used at cycling events such as Individual and Team Pursuit, 500m time trial, kilometre time trial and team sprint. When linked to the Tracker countdown start device, they ensure a fully automated start sequence. After a programmable countdown time with audible signals, the Tracker perfectly synchronises the start signal with the timing system, the opening of the Starting Gates and the starting sound. The Starting Gate may also be used as a stand-alone training unit using a manual trigger. Swiss Timing Starting Gates are recommended by the UCI for national and international competitions.
Another sports equipment from category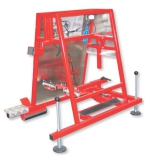 Starting gate cycling
Article: 3358.900
Dimensions: 1110 x 800 x 1000 mm (LxWxH)
Weight: 60.2 kg
Service pressure: 4.5 to 6.0 bars
Supply pressure: 200 bars
Working temperature: 0°to +50°C
Storage temperature: —10° to +35°C
Protection: IP51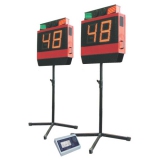 TRACKER - Start Semaphores / Lap counters
Article: 3442.901
Housing width: 640 mm (690 mm with handles)
Housing: 715 x 155 mm (H x D)
Digit height: 26 cm
Support height: adjustable 1040 to 1490 mm
Weight with support: 21.6 kg
Backup battery life: 4 hours
Power supply: 115—230 VAC, 50/60 Hz
Power consumption: 100 VA
Countdown sound: Beep (500 and 1000 Hz)
Countdown start: Bang or beep
Last Lap indication sound: Bell (synthesised)
Volume: Adjustable, up to 102 dB
Integrated keypad: 4 keys (clear, lap +, lap—, bell control)
Operating temperature: 0° to 50°C
Storage temperature: —10° to +50°C
Protection: IP 55
Manufacturer Swiss Timing (Switzerland)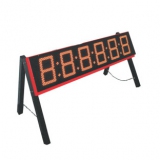 Timing scoreboard Gemini
Article: 3449.961
Manufacturer: Swiss Timing (Switzerland)
Category: Scoring and Timing systems
Specifications:The Gemini is a modular 9—or 6 digit or 12 alphanumerical characters scoreboard that uses LED technology and allows indoor as well as outdoor applications with IP54. The height of LED's 24cm. for digits and 20cm. for alphanumeric display
Housing dimensions/Weight:
type 9 digits: 2400x340x94 mm., / 15,3 kg.
type 6 digits: 1460x340x94 mm., / 10,2 kg.
type 12 alfanum: 2400x340x94 mm., / 15,7 kg.
Certifications:CE and RoHS