MISTRAL Integrated wind gauge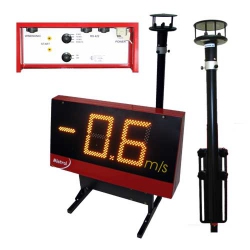 Article:

3436.900

Measurement duration: 5, 10 or 13 seconds, 1 to 30 seconds with RS422 serial remote control

Display: Amber LED, 250mm height

Display luminosity: 4 steps automatically adjusted with a light sensor

Display duration: 3 minutes after each measurement

Power: 115 / 230VAC 50/60 Hz, max. 0.5A

Internal battery autonomy: ~12 hours* at maximum luminosity, ~60 hours* at minimum luminosity

Wind speed range: -9.9m/s to +9.9m/s

Wind speed accuracy: ±0.1m/s

Operating temperature: 0 °C to +50 °C

Storage temperature: -25 °C to +70 °C

Moisture protection: IP54 (IP65 for the head)

Dimensions (closed): 850 x 760 x 200 mm

Dimensions (maximum open): 850 x 1390 x 415 mm

Weight with head: 21 kg

Manufacturer Swiss Timing (Switzerland)

Mistral is an Ultrasonic wind gauge (as requested by the IAAF rule 163.11) with
integrated scoreboard displaying wind speed in the race direction from –9.9m/s to
+9.9m/s.
The Mistral can be used stand alone or connected (remote control) to the Scan'O'Vision
photofinish by cable or wireless by BlueTooth (option).
The wind speed is displayed by amber LED's with 4 steps of luminosity, automatically
adjusted with a light sensor (from "night" to "very sunny").
Another sports equipment from category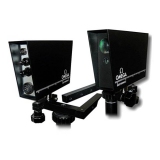 ARGES photocells
Article: 3459.930
Manufacturer: Swiss Timing (Switzerland)
Model: Arges photocells
Category: Part of refereeing and timing systems
Specifications: Used for cross country, athletic and other sports.
Battery type: 3xAA or UM—3
Typical battery life: ~ 4 h (transmitter), ~ 20 h (receiver)
Weight incl. batteries: 915 g
Dimensions: 188 x 57 x 95 mm
Fixing: UNC 1/4"
Protection: IP54
Working temperature: —30°C to 70°C
Storage temperature: —35°C to 85°C
Operating distance: max 200 m
Response time: < 1 ms
Power supply : integrated 12V/7Ah lead—acid battery
Battery autonomy : more than 1000 starts before recharge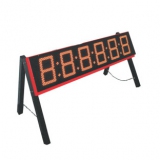 Timing scoreboard Gemini
Article: 3449.961
Manufacturer: Swiss Timing (Switzerland)
Category: Scoring and Timing systems
Specifications:The Gemini is a modular 9—or 6 digit or 12 alphanumerical characters scoreboard that uses LED technology and allows indoor as well as outdoor applications with IP54. The height of LED's 24cm. for digits and 20cm. for alphanumeric display
Housing dimensions/Weight:
type 9 digits: 2400x340x94 mm., / 15,3 kg.
type 6 digits: 1460x340x94 mm., / 10,2 kg.
type 12 alfanum: 2400x340x94 mm., / 15,7 kg.
Certifications:CE and RoHS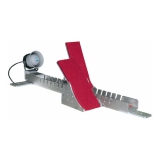 Starting blocks Track & field
Article: 3457.901
Manufacturer: Swiss Timing (Switzerland)
Category: Scoring and Timing systems component
Specifications: Starting blocks with the latest false start detection technology, without any mechanical moving parts, successfully used at the highest levels of competition. The sets include loudspeakers and sets of cables on drums.
The footrest angle can be adjusted to 4 positions between 55° and 73°.
The footrest can be moved horizontally within 16 positions spaced of 35.5 mm giving a maximum distance of 502.5 mm between the front and back feet.
Acoustic signals: False start: ~100 dB
Gun shot : ~90 dB
Connection : 1x Tuchel 4pMT (for thrust sensors and loudspeaker)
Certifications: IAAF Certified Product