ARGES reflex photocell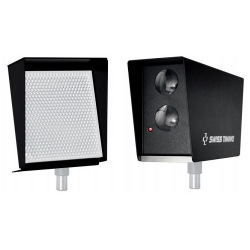 Article:

3459.900

Battery type : 3xAA or UM-3

Average battery life : ~ 20h (with alkaline batteries)

Battery indicator : 4 levels battery symbol

Dimensions : 188 x 57 x 95 mm

Photocell weight : 915 g (incl. batteries)

Reflector weight : 160 g

Fixing : UNC 1/4" mounting thread

Operating temperature : -30°C to 70°C

Storage temperature : -40°C to 85°C

Operating distance : up to 30m

Response time : < 1 ms sensing time

Relative humidity : up to 95% (non-condensing)

Protection class : IP54

Manufacturer Swiss Timing (Switzerland).

The ARGES Reflex Photocell consists of a transmitter and a reflector unit. The transmitter produces an infrared
beam that is reflected on the photocell reflector, which serves as a mirror when correctly aligned opposite.
Anything or anyone that crosses the field of the beam creates an interruption which is instantly reported to a
timing device accordingly to meet the International Sport Federations standards. The ARGES Reflex Photocell
allows a simple and constant monitoring of the cell alignment. It features an internal and accessible battery
lodging and can also be connected to an external battery or a DC power supply. The two outputs contacts allow
to connect the ARGES to two different timing devices simultaneously (main & back-up for example). The new
ARGES Reflex Photocell also features a completely accessible DIL switch panel on the side of the photocell
allowing users to choose from the many operating modes and options. The ARGES Reflex Photocell is a highly
precise and reliable timing device even in extreme meteorological conditions and temperatures.
Another sports equipment from category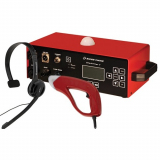 Egun - StartTime V acoustic start device
Article: 3481.931
Main unit dimensions: 376 x 215 x 245mm w/o Connectors
Microphone dimensions: 118 x 25 x 80 mm. + 7 meter cable
E—GUN dimensions 280 x 35 x 140 mm + 7 meter cable
Alarm "low battery": Yes, 4 levels indicated as battery symbol (Empty, Low, Medium, Full)
Protection class: IP41
Power: Built in 12 Volt / 7 Ah Sealed lead—acid battery
Standby time: 24 Hours (1000 starts). After this, the unit should still be operable for 1 hour.
The self—discharge time is approximately 12 months if not in use.
An external 12V Lead/Acid battery (car battery) connected to the charger input, could be used if extended operation time is needed.
Charger: Max. initial current: 1.0 Ah (only for use in dry environment).
Speakers: Load 3.2 — 16 Ohms
Output speakers: @13.2 Volts, 3.2 Ohms, 1 kHz Typical: 2 * 13 Watt with < 10 % Distortion Maximum: 2 * 19 Watts with 10 % Distortion
Storage temperature: —20ºC to +65ºC
Working temperature: —10ºC to +65ºC
Relative humidity: (20%—80%) without condensation
Manufacturer Swiss Timing (Switzerland)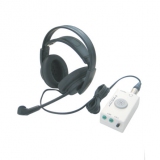 Telephone set with headset
Article: 3431.921
Autonomy about 100 hours
Microphone—headset dynamic microphones and headsets
Power supply 1 x 9V battery
Manufacturer Swiss Timing (Switzerland)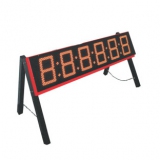 Timing scoreboard Gemini
Article: 3449.961
Manufacturer: Swiss Timing (Switzerland)
Category: Scoring and Timing systems
Specifications:The Gemini is a modular 9—or 6 digit or 12 alphanumerical characters scoreboard that uses LED technology and allows indoor as well as outdoor applications with IP54. The height of LED's 24cm. for digits and 20cm. for alphanumeric display
Housing dimensions/Weight:
type 9 digits: 2400x340x94 mm., / 15,3 kg.
type 6 digits: 1460x340x94 mm., / 10,2 kg.
type 12 alfanum: 2400x340x94 mm., / 15,7 kg.
Certifications:CE and RoHS