Athletics false start detection system ASC3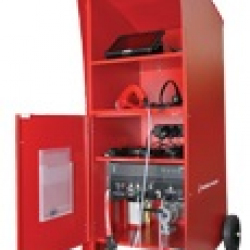 Article: 3457.900
Manufacturer: Swiss Timing (Switzerland)
Model: ASC3 Automatic Start Control
Category: false start detection system
Specifications:
Suitable for all competition levels, Monitor up to 10 lanes simultaneously.
Acoustic signal in case of false start, Force curve display for each lane. On—line transfer data via a serial line. 115—230 VAC, internal battery (6 hours autonomy). Timer, headset, printer and Electronic starting system: E—gun are included
Sertifcates : IAAF Approved
General Description:
Start monitoring systems are used for athletic events, especially during major competitions. ASC3 (Automatic Start Control) is suitable for all levels of athletics, and is compatible with timing installations manufactured by Swiss Timing. It enables up to 10 lanes to be monitored simultaneously. The starting block sensors take account of the physiological response time, i.e. the time elapsed between
the starting signal and the thrust of the athlete's foot against the starting block. The system memorizes and prints all the reactions times occurring in the interval of 0.3 second before and 0.7 second after the starting gunshot. Each athlete's force curve is displayed on the computer screen and can be zoomed for deeper analysis. In the event of a false start, an acoustic signal is transmitted by the central station to the starter's headphones and to the starting block loudspeakers. Online data transfer is made possible via a RS422 serial line to a data handling unit and a Myria camera. The instructions given by the starter are amplified and easily understood by the athletes through their individual loudspeakers. With its handle and wheels, ASC3 is easily movable between the different start positions. In the event of a false start, an acoustic signal is sounds.
Another sports equipment from category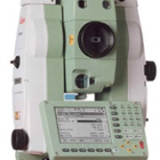 Electronic distance measurement system
Article: 3142.902
Manufacturer: (Switzerland)
Category: Refereeing and timing systems for athletics
Specifications:
Weight : 6.5 kg
Battery life : 6 — 8 hours
Maximum range : 3000 m (prism)
250 m (reflective tape), 150 m (reflectorless)
Minimum range : 1.5 m
Accuracy : 2 mm
Measuring time : 1.5 s
Display: colored LCD
Interface language : selectable
Data connection : RS232 or optional Bluetooth
Operating temperature : —20 to 50°C (operating)
Storage temperature : —40 to 70°C (storage)
Humidity : 95% (non—condensing)
Sertifcates: IAAF Approved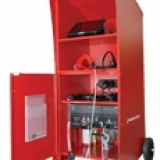 Athletics false start detection system ASC3
Article: 3457.900
Manufacturer: Swiss Timing (Switzerland)
Model: ASC3 Automatic Start Control
Category: false start detection system
Specifications:
Suitable for all competition levels, Monitor up to 10 lanes simultaneously.
Acoustic signal in case of false start, Force curve display for each lane. On—line transfer data via a serial line. 115—230 VAC, internal battery (6 hours autonomy). Timer, headset, printer and Electronic starting system: E—gun are included
Sertifcates: IAAF Approved