Touchpad OCP5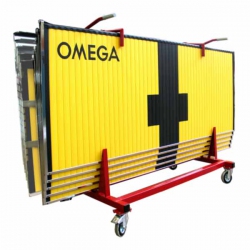 Article:

2924.xxx

Manufacturer: Swiss Timing (Switzerland)

Category: part of swimming timing and scoring system

Specifications:

High sensitvity, Easy on-site maintenance, Non-slip, non-abrasive, non-corrosive and Low weight Swimming touchpad for reliable results: 5 type of sizes

■ Dimensions: 240х90 mm., 227x90 mm., 190x90 mm., 200x60 mm., 150x60 mm., - Depends on your needs and pool lane size.

■ Weight: 16,3/xx/12,8/10,2/7,3 kg

■ Pressure to get signal - sensitiveness 2-3 kg

Sertifcates : FINA demand compliance

General Description:

The OCP5 touchpad consists of a high-grade stainless steel frame, supporting interlinked individual PVC slats. The slats are hard-wearing, nonabrasive and provide an excellent non-slip surface. The touchpad is designed for sustained heavy use. Reliability and durability are unaffected by hard water or chemical corrosion. The contact strips within the pad will close and thus give a timing signal, when 2 to 3 kg of localized pressure is applied to any point on the surface of the pad. The clever design of the touchpad is such that whilst it is highly sensitive to localized impact, it will not react to an overall change in surface pressure, thus eliminating false impulses from waves and wash.

The Swiss company "Swiss Timing" offers scoring and timing systems for the sports industry. The single features and complete sets for swimming timing and scoring system strongly depend on the configuration of the sports area in which they are installed and the level of sporting activities to be conducted. If you want to implement a scoring and timing system - please refer to our managers. They will help you decide on the appropriate equipment and will answer all your questions about options, costs, delivery dates, etc. of the system.
Another sports equipment from category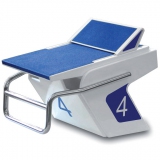 Swimming starting block OSB11
Article: 3454.700.TS.BL
Manufacturer: Swiss Timing (Switzerland)
Category: part of swimming timing and scoring system
Specifications:
Adjustable footrest, Ant—slip surface, Available versions: standard or with RBD (Relay Break Detecton) Swimming starting block
■ Dimensions:
Overall size: 780 x 640 mm
Platform size length x width: 740 x 520 mm
Height: max. 650 mm
■ Material: fiberglass
■ Weight: 45 kg
■ Top surface color on your choice (Black / Grey / Ivory / Red, Blue by default)
Sertifcates: FINA demand compliance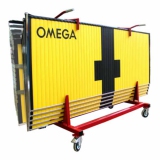 Touchpad OCP5
Article: 2924.xxx
Manufacturer: Swiss Timing (Switzerland)
Category: part of swimming timing and scoring system
Specifications:
High sensitvity, Easy on—site maintenance, Non—slip, non—abrasive, non—corrosive and Low weight Swimming touchpad for reliable results: 5 type of sizes
■ Dimensions: 240х90 mm., 227x90 mm., 190x90 mm., 200x60 mm., 150x60 mm., — Depends on your needs and pool lane size.
■ Weight: 16,3/xx/12,8/10,2/7,3 kg
■ Pressure to get signal — sensitiveness 2—3 kg
Sertifcates: FINA demand compliance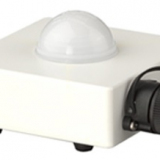 FLASH LED STARTING SIGNAL
Article: 3481.951
Manufacturer: Swiss Timing (Switzerland)
Model: OMEGA FLASH Start
Category: part of swimming timing and scoring system
Specifications:
Visual signal intended for hearing impaired athletes. Powered by the StartTime. Can be connected in chain up to 10 pcs. Optionally: tripod and ball head support.
Sertifcates: FINA Approved