Scoring and Timing system for swimming - FINA Approved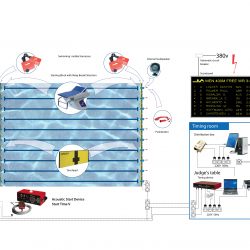 Article:

STSW

Manufacturer: Swiss Timing (Switzerland)

Category: Scoring and Timing systems

Specifications:

- Main timer Quantum main and backup with competition handling software.

- The -OCP5 Touchpads, low weight, 4 sizes, excellent non-slip surface

- Starting blocks with Adjustable footrest, Ant-slip surface. Two types: Standard OSB14 and with smaller base OSB1.

- Backstroke Ledge OBL2: is the ideal complement to the starting blocks OSB11 and OSB14 for backstroke swimming starts

- StartTime V is Starting device with flash and loudspeaker

- Scoreboard Piccolo, Calypso or Video LED display for swimming

Sertifcates : FINA Approved

General Description:

The Swiss company "Swiss Timing" offers scoring and timing systems for the sports industry. The single features and complete sets for swimming timing and scoring system strongly depend on the configuration of the sports area in which they are installed and the level of sporting activities to be conducted. If you want to implement a scoring and timing system - please refer to our managers. They will help you decide on the appropriate equipment and will answer all your questions about options, costs, delivery dates, etc. of the system.
Another sports equipment from category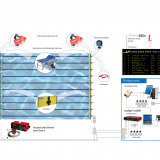 Scoring and Timing system for swimming - FINA Approved
Article:STSW
Manufacturer: Swiss Timing (Switzerland)
Category: Scoring and Timing systems
Specifications:
— Main timer Quantum main and backup with competition handling software.
— The —OCP5 Touchpads, low weight, 4 sizes, excellent non—slip surface
— Starting blocks with Adjustable footrest, Ant—slip surface. Two types: Standard OSB14 and with smaller base OSB1.
— Backstroke Ledge OBL2: is the ideal complement to the starting blocks OSB11 and OSB14 for backstroke swimming starts
— StartTime V is Starting device with flash and loudspeaker
— Scoreboard Piccolo, Calypso or Video LED display for swimming
Sertifcates: FINA Approved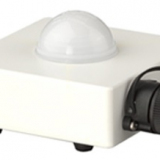 FLASH LED STARTING SIGNAL
Article: 3481.951
Manufacturer: Swiss Timing (Switzerland)
Model: OMEGA FLASH Start
Category: part of swimming timing and scoring system
Specifications:
Visual signal intended for hearing impaired athletes. Powered by the StartTime. Can be connected in chain up to 10 pcs. Optionally: tripod and ball head support.
Sertifcates: FINA Approved