OMEGA PICCOLO white - swimming scoreboard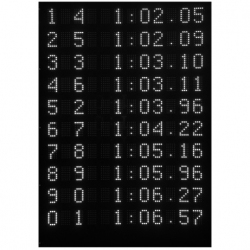 Article:

3402.921

Manufacturer: Swiss Timing

Model: PICCOLO Scoreboard

Category: Part of Refereeing and timing systems for swimming and water polo

Specifications:

Dimensions : 1660 x 1150 x 90 mm

Housing : aluminium

Display: 8 /10 lines of 8 digits, 10 cm high digits, white LEDs

Visibility distance : 50 m

Horizontal viewing angle : 140°

Power supply : 115-230 VAC, 50-60 Hz

Power consumption : 100 VA (maximum) 30 VA (typical)

Data communication : RS422 (or 20 mA current loop internal

connection)

Operating temperature : 0 to 70°C

Storage temperature -30 to 85°C

General Description:
Piccolo, a LED scoreboard for indoor swimming competitions, has been designed in that spirit and meets this very specific need; it is ideally positioned for all swimming pool operators who want to display the results of the 8(10) lanes but are looking for low initial and maintenance costs.
PICCOLO can also be installed as a result repeater in zones where spectators cannot see the main panel or in the warm-up rooms or restaurants of multisport facilities.
The Swiss company "Swiss Timing" offers scoring and timing systems for sports competitions. The single features and complete set for swimming scoring depend strongly on the configuration sports arena in which they are installed and the level of sporting activities to be conducted. If you want to implement a scoring and timing system - please refer to our managers. They will help you decide on the appropriate equipment and will answer all your questions about options, costs, delivery dates, etc. of the system.
Another sports equipment from category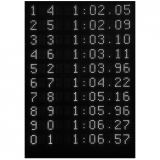 OMEGA PICCOLO white - swimming scoreboard
Article:3402.921
Manufacturer: Swiss Timing
Model: PICCOLO Scoreboard
Category: Part of Refereeing and timing systems for swimming and water polo
Specifications:
Dimensions : 1660 x 1150 x 90 mm
Housing : aluminium
Display: 8 /10 lines of 8 digits, 10 cm high digits, white LEDs
Visibility distance : 50 m
Horizontal viewing angle : 140°
Power supply : 115—230 VAC, 50—60 Hz
Power consumption : 100 VA (maximum) 30 VA (typical)
Data communication : RS422 (or 20 mA current loop internal
connection)
Operating temperature : 0 to 70°C
Storage temperature —30 to 85°C