Sports equipment for mountain skiing at skiing facilities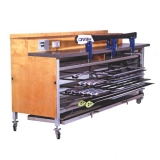 Article:

machine-for-applying-wax-to-skis

Manufacturer: Temperbox

Model: DH, GS

Category: equipment for ski sports

Specifications:

- Even heating provides avoiding burning of the applied layer

- Effective absorption and deep penetration by using special wax

BP88 produced by SWIX with melting temperature of 75 degrees

and effect time of 70 hours provides the depth of penetration of

38/100 mm. After tenfold treatment on polishing machine using hot

wax (device temperature is 120 degrees) the penetration achieves

depth of 12/100mm.

- High extent of wax absorption provides perfect sliding of ski for a

long time.

- In case polishing is made in appropriate way and proper maintenance

of the applied layer is provided, there should be no white stains on

the surface.

- Provides improved quality of sliding in speed sports with duration

more than 50 seconds and multiple trainings.

- Can be used for warming up (30 minutes at 50 degrees) as well as for

quick and effective smoothing of hot wax for training and

competitions.

- Great time saving in comparison with a usual procedure of wax.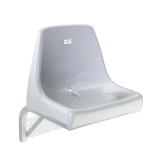 Article:

stadium-seats-m2009-m2009-small-metallic-console---uefa-recommendations-and-fiba-approved

Made in: EU

Model: M2009-M2009 SMALL metallic console

Category: Tribune, seats

Technicals Features:

High back seat, UEFA reccomandations and FIBA approved. Ideal for narrow step depth. Upon request is available the SMALL version with depth 300 mm. The shape of the seat allows the user to enjoy the sporting event in comfort, without sacrificing strength and durability thanks to the 3 fixing points and the numerous ribs under the seat and behind the back.

OVERALL DIMENSIONS M2009

Height 350 mm; depth 320 mm; width 440 mm

OVERALL DIMENSIONS M2009 SMALL

Height 350 mm; depth 300 mm; width 440 mm

MATERIAL

Polypropylene (PP) or polyamide (PA); injection moulded

INSTALLATION

Directly on concrete step, on riser mounted polyamide or metallic bracket, on metal beam 2-3-4-5 seats

FIXING

Provides from 1 to 3 fixing points if installed directly on concrete step; up to 5 fixing points when installed on polyamide/metal bracket or on metal beam.