Short Track Timing system - ISU Approved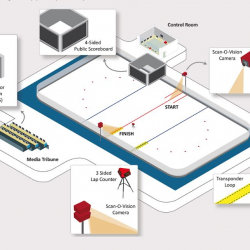 Article: STST
Manufacturer: Swiss Timing (Switzerland)
Category: Scoring and Timing Systems
Specifications: Basic system elements:
Electronic start gun (E—gun) to indicate the start of the race and Start TimeV with mobile loudspeaker
Timer with a certifed clock is required to measure all race tmes
Lap counter
Photofinish camera Myria
PC with Partcipants and competition management software
HDV — finish videoreplay system
Transponder system
Gemeni scoreboard 9 digits rolling tme board
Certifications: ISU
General Description:
Timing system is required for real time timing and scoring, judging and data collecting, results processing to display and publish. Timing and Scoring systems are based on electronic and computer technologies that ensure that all information is real-time and accurate.
Short track is practiced on ice in a standard, 111.12m ice hockey rink. Two to eight competitors compete in one time and speed can reach up to 60 km/h. What makes this sport so spectacular is the challenge to maintain high speeds while skating on a track with tight turns.
The Swiss company "Swiss Timing" offers scoring and timing systems for the sports industry. The single features and complete sets strongly depend on the configuration of the sports arena in which they are installed and the level of sporting activities to be conducted. If you want to implement a scoring and timing system - please refer to our managers. They will help you decide on the appropriate equipment and will answer all your questions about options, costs, delivery dates, etc. of the system.
Another sports equipment from category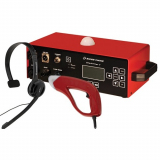 Egun - StartTime V acoustic start device
Article: 3481.931
Main unit dimensions: 376 x 215 x 245mm w/o Connectors
Microphone dimensions: 118 x 25 x 80 mm. + 7 meter cable
E—GUN dimensions 280 x 35 x 140 mm + 7 meter cable
Alarm "low battery": Yes, 4 levels indicated as battery symbol (Empty, Low, Medium, Full)
Protection class: IP41
Power: Built in 12 Volt / 7 Ah Sealed lead—acid battery
Standby time: 24 Hours (1000 starts). After this, the unit should still be operable for 1 hour.
The self—discharge time is approximately 12 months if not in use.
An external 12V Lead/Acid battery (car battery) connected to the charger input, could be used if extended operation time is needed.
Charger: Max. initial current: 1.0 Ah (only for use in dry environment).
Speakers: Load 3.2 — 16 Ohms
Output speakers: @13.2 Volts, 3.2 Ohms, 1 kHz Typical: 2 * 13 Watt with < 10 % Distortion Maximum: 2 * 19 Watts with 10 % Distortion
Storage temperature: —20ºC to +65ºC
Working temperature: —10ºC to +65ºC
Relative humidity: (20%—80%) without condensation
Manufacturer Swiss Timing (Switzerland)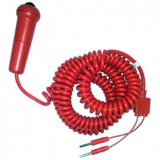 Button judge-timekeeper OIT5
Article: 3498.701
Manufacturer: Swiss Timing (Switzerland)
Model: OIT5
Category: part of refereeing and timing systems
Specifications:
— In the free position is open button;
— Connectors such as "banana"
— waterproof and handy with spiral cable 1,25м
— Protection IP67
Certifcates: FINA demand compliance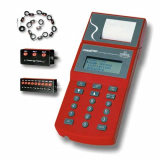 OMEGA PowerTime II Hand-held timer/printer
Article: 3462.900
Dimensions: 210 x 95 x 40 mm
Weight: 410 g (no paper, no batteries)
Display: Alphanumeric LCD, 4 lines of 16 char. each
Timebase type: Thermo—compensated quartz oscillator
Timebase resolution: 1/1000 sec to 1 sec (programmable)
Chronograph: 23.59.59.999 repetitive
Keyboard: 10 numeric keys and 8 function keys
Acoustic signal: 1 KHz
Memory capacity: Maximum 2000 competitors
Printer: 24 alphanumeric characters per line
Print speed: 1,5 s per line
Paper: Thermal, width 58 mm, length 8 m
Printing capacity: 2000 lines per roll
Serial link: RS232 (data); RS485 (display)
External power supply: 9—15 VDC
Internal power supply: 4 alkaline batteries 1.5 V, 1500 mAh, type AA/LR6/UM3
Operating time without serial output: > 30 hours and 2000 printed lines at + 20°C
Operating time with running time on PC and scoreboard: > 12 hours and 2000 printed lines at +20°C
External power: Power jack plug Ø3.5 / 1.9 mm for 9 V power adaptor
Operating temperature: — 10 °C to +50°C
Storage temperature: — 30 °C to +60°C
Printer temp. Range: — 10 °C to +50°C
Protection: IP40
Mains power: 115—230 VAC, 50—60 Hz depending on model
Output voltage: 9V DC 1.2A
Manufacturer Swiss Timing (Switzerland)