Lap Counter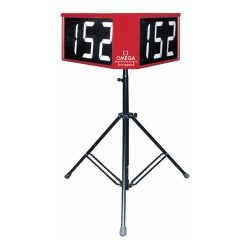 Article:

3442.911

Power supply: 115 - 230 VAC 50/60Hz

Power consumption: Max 0.6A

Data transmission: RS422, 9600 Bauds, 8 data bit, no parity, 1 stop bit

Dimension without tripod: 750 x 650 x 510 mm

Weight without tripod: 15.6kg

Height of digits: 260 mm

Viewing distance, up to: 130 m

Horizontal viewing angle: 110o

Display type: Amber LED (150 LEDs per digit)

Display luminosity: 15 steps adjusted manually or automatically with a light sensor.

Protection: IP54

Manufacturer Swiss Timing (Switzerland)

The Digits LED Lap Counter is a 3-faces scoreboard that uses LED technology and allows indoor as well as outdoor applications.
It allows to display the number of laps to go (up to 199) and it is visible at 360o. It can be operated locally by a judge (keyboard included) or from a RS422 serial line.
Another sports equipment from category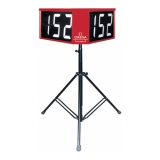 Lap Counter
Article: 3442.911
Power supply: 115 — 230 VAC 50/60Hz
Power consumption: Max 0.6A
Data transmission: RS422, 9600 Bauds, 8 data bit, no parity, 1 stop bit
Dimension without tripod: 750 x 650 x 510 mm
Weight without tripod: 15.6kg
Height of digits: 260 mm
Viewing distance, up to: 130 m
Horizontal viewing angle: 110o
Display type: Amber LED (150 LEDs per digit)
Display luminosity: 15 steps adjusted manually or automatically with a light sensor.
Protection: IP54
Manufacturer Swiss Timing (Switzerland)