Speed Skating Timing system - ISU Approved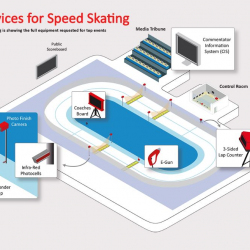 Article:

STSS

Manufacturer: Swiss Timing (Switzerland)

Category: Scoring and Timing Systems

Specifications: is based on light barriers using a multi channel Timer with a certified clock is required to measure all race times, Electronic start gun (E-gun) to indicate the start of the race and Start TimeV with mobile loudspeaker, Lap counter, Photofinish camera Myria, PC with Participants and competition management software In connection with the Timer, it is possible to handle complete Speed Skating competitions at ease.

An optional transponder based Timing system is perfectly suitable for demanding disciplines such as Team Pursuit and Mass Start. Gemeni scoreboard 9 digits lap and rolling time board or Led display for speed skating

Certifications: ISU

General Description:

The Swiss company "Swiss Timing" offers scoring and timing systems for the sports industry. The single features and complete sets strongly depend on the configuration of the sports arena in which they are installed and the level of sporting activities to be conducted. If you want to implement a scoring and timing system - please refer to our managers. They will help you decide on the appropriate equipment and will answer all your questions about options, costs, delivery dates, etc. of the system.
Another sports equipment from category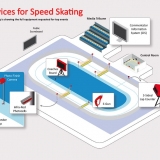 Speed Skating Timing system - ISU Approved
Article:STSS
Manufacturer: Swiss Timing (Switzerland)
Category: Scoring and Timing Systems
Specifications: is based on light barriers using a multi channel Timer with a certified clock is required to measure all race times, Electronic start gun (E—gun) to indicate the start of the race and Start TimeV with mobile loudspeaker, Lap counter, Photofinish camera Myria, PC with Participants and competition management software In connection with the Timer, it is possible to handle complete Speed Skating competitions at ease.
An optional transponder based Timing system is perfectly suitable for demanding disciplines such as Team Pursuit and Mass Start. Gemeni scoreboard 9 digits lap and rolling time board or Led display for speed skating
Certifications: ISU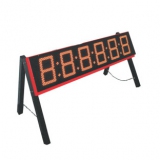 Timing scoreboard Gemini
Article: 3449.961
Manufacturer: Swiss Timing (Switzerland)
Category: Scoring and Timing systems
Specifications:The Gemini is a modular 9—or 6 digit or 12 alphanumerical characters scoreboard that uses LED technology and allows indoor as well as outdoor applications with IP54. The height of LED's 24cm. for digits and 20cm. for alphanumeric display
Housing dimensions/Weight:
type 9 digits: 2400x340x94 mm., / 15,3 kg.
type 6 digits: 1460x340x94 mm., / 10,2 kg.
type 12 alfanum: 2400x340x94 mm., / 15,7 kg.
Certifications:CE and RoHS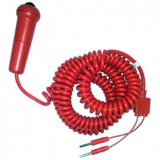 Button judge-timekeeper OIT5
Article: 3498.701
Manufacturer: Swiss Timing (Switzerland)
Model: OIT5
Category: part of refereeing and timing systems
Specifications:
— In the free position is open button;
— Connectors such as "banana"
— waterproof and handy with spiral cable 1,25м
— Protection IP67
Certifcates: FINA demand compliance