Scoring and Timing systems for Athletics - IAAF Approved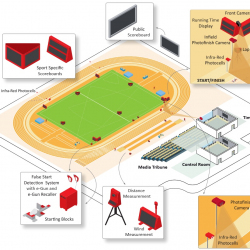 Article:

STAT

Manufacturer: Swiss Timing (Switzerland)

Category: Scoring and Timing systems

Specifications:

- For running disciplines used: false start detection system AC3 with E-Gun, running time scoreboard GEMINI, photocell ARGES, high speed and light sensitivity photo finish camera MYRIA, 3-sided Lap counter with custom branding Bell and etc.

- For technical disciplines used: Concentration clock BOREAS or LISTO, Electronic distance measurement – EDM, MISTRAL scoreboard with integrated ultrasonic wind sensor, The OIN5 full-colour matrix scoreboard

Sertifcates : IAAF Approved

General Description:

The Swiss company "Swiss Timing" offers scoring and timing systems for the sports industry. The single features and complete sets for Track and field athletic scoring system strongly depend on the configuration of the sports area in which they are installed and the level of sporting activities to be conducted. If you want to implement a scoring and timing system - please refer to our managers. They will help you decide on the appropriate equipment and will answer all your questions about options, costs, delivery dates, etc. of the system.
Another sports equipment from category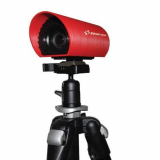 Scaider camera
Article: 3511.900
Dimensions (LxWxH): 76 x 79 x 187 mm
Lens: Integrated 12x zoom motor lens
Weight: 0.485kg
Resolution: 1920x1080px Full Hd
Frame rate: 25 fps
Connection: Gigabit LAN, up to 100m
Power: Power Over Ethernet, POE
Temperature: —5°C to +45°C
Protection class: IP43
Manufacturer Swiss Timing (Switzerland)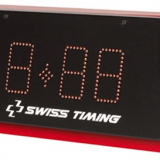 OMEGA LISTO 920 - Concentration clock
Article: 3406.920
Dimensions (without tripod): 460 x 270 x 95 mm
Weight of LISTO 920: 5.8 kg
Operating temperature: —15ºC to +45ºC
Autonomy of the internal battery at 25°C: brightness level auto – 15 h, brightness level low – 15 h, brightness level high – 10 h
Manufacturer Swiss Timing (Switzerland)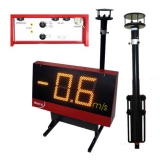 MISTRAL Integrated wind gauge
Article: 3436.900
Measurement duration: 5, 10 or 13 seconds, 1 to 30 seconds with RS422 serial remote control
Display: Amber LED, 250mm height
Display luminosity: 4 steps automatically adjusted with a light sensor
Display duration: 3 minutes after each measurement
Power: 115 / 230VAC 50/60 Hz, max. 0.5A
Internal battery autonomy: ~12 hours* at maximum luminosity, ~60 hours* at minimum luminosity
Wind speed range: —9.9m/s to +9.9m/s
Wind speed accuracy: ±0.1m/s
Operating temperature: 0 °C to +50 °C
Storage temperature: —25 °C to +70 °C
Moisture protection: IP54 (IP65 for the head)
Dimensions (closed): 850 x 760 x 200 mm
Dimensions (maximum open): 850 x 1390 x 415 mm
Weight with head: 21 kg
Manufacturer Swiss Timing (Switzerland)