Scoring and Timing systems for Athletics - IAAF Approved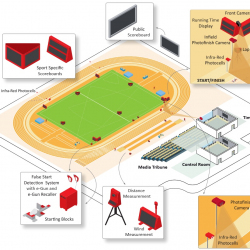 Article:

STAT

Manufacturer: Swiss Timing (Switzerland)

Category: Scoring and Timing systems

Specifications:

- For running disciplines used: false start detection system AC3 with E-Gun, running time scoreboard GEMINI, photocell ARGES, high speed and light sensitivity photo finish camera MYRIA, 3-sided Lap counter with custom branding Bell and etc.

- For technical disciplines used: Concentration clock BOREAS or LISTO, Electronic distance measurement – EDM, MISTRAL scoreboard with integrated ultrasonic wind sensor, The OIN5 full-colour matrix scoreboard

Sertifcates : IAAF Approved

General Description:

The Swiss company "Swiss Timing" offers scoring and timing systems for the sports industry. The single features and complete sets for Track and field athletic scoring system strongly depend on the configuration of the sports area in which they are installed and the level of sporting activities to be conducted. If you want to implement a scoring and timing system - please refer to our managers. They will help you decide on the appropriate equipment and will answer all your questions about options, costs, delivery dates, etc. of the system.
Another sports equipment from category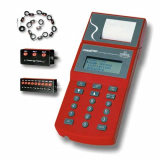 OMEGA PowerTime II Hand-held timer/printer
Article: 3462.900
Dimensions: 210 x 95 x 40 mm
Weight: 410 g (no paper, no batteries)
Display: Alphanumeric LCD, 4 lines of 16 char. each
Timebase type: Thermo—compensated quartz oscillator
Timebase resolution: 1/1000 sec to 1 sec (programmable)
Chronograph: 23.59.59.999 repetitive
Keyboard: 10 numeric keys and 8 function keys
Acoustic signal: 1 KHz
Memory capacity: Maximum 2000 competitors
Printer: 24 alphanumeric characters per line
Print speed: 1,5 s per line
Paper: Thermal, width 58 mm, length 8 m
Printing capacity: 2000 lines per roll
Serial link: RS232 (data); RS485 (display)
External power supply: 9—15 VDC
Internal power supply: 4 alkaline batteries 1.5 V, 1500 mAh, type AA/LR6/UM3
Operating time without serial output: > 30 hours and 2000 printed lines at + 20°C
Operating time with running time on PC and scoreboard: > 12 hours and 2000 printed lines at +20°C
External power: Power jack plug Ø3.5 / 1.9 mm for 9 V power adaptor
Operating temperature: — 10 °C to +50°C
Storage temperature: — 30 °C to +60°C
Printer temp. Range: — 10 °C to +50°C
Protection: IP40
Mains power: 115—230 VAC, 50—60 Hz depending on model
Output voltage: 9V DC 1.2A
Manufacturer Swiss Timing (Switzerland)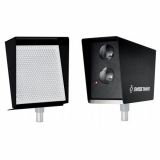 ARGES reflex photocell
Article: 3459.900
Battery type : 3xAA or UM—3
Average battery life : ~ 20h (with alkaline batteries)
Battery indicator : 4 levels battery symbol
Dimensions : 188 x 57 x 95 mm
Photocell weight : 915 g (incl. batteries)
Reflector weight : 160 g
Fixing : UNC 1/4" mounting thread
Operating temperature : —30°C to 70°C
Storage temperature : —40°C to 85°C
Operating distance : up to 30m
Response time : < 1 ms sensing time
Relative humidity : up to 95% (non—condensing)
Protection class : IP54
Manufacturer Swiss Timing (Switzerland).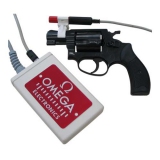 Start Transducer OST4
Article:3431.901
Manufacturer: Swiss Timing
Model: OST4