Double-End Ball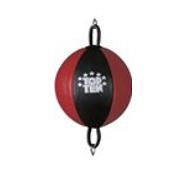 Article: AVTT1018
Level: 3
Double—End Ball, genuine leather covered, with two elastic ropes at the ends and reinforced hooks. Steel loops.
For speed and precision training on punch and kicks.
Made in: EU
Another sports equipment from category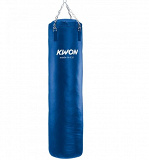 Punching Bag Blue 150 cm
Article: AVKW1013
Level: 3

Colour: Blue
Size: 150 cm
Weigth: Approx. 44 kg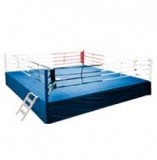 Box Ring 6.5x6.5
Article: AVTT1004
Level: 3
Dimensions:
[— external:] 6.5 x 6.5 m
[— internal:] 5.1 x 5.1 m
— height 1 m
Material:
— frame — steel
— floor – wooden
— foam cover 1,5cm
— canvas cover — PVC
Colour: White, blue, red.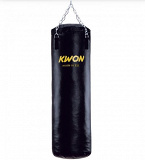 Training Bag Standard 120 cm
Article: AVKW1002
Level: 3
Material: Vinyl, foam insert.
All training bags are supplied with a stainless—steel, chrome—plated chain for hanging and Punching Bag Joint.
Colour: Black
Weight: Approx. 30 kg.
Dimensions: Approx. 120 cm long, 35 cm dia.