Pole vault landing area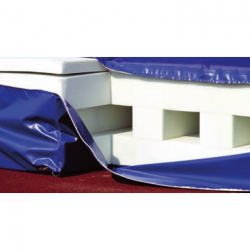 Article:

AVSS1171

Dimensions: 700x600x80 cm.

Interior made of specially designed foam blocks to be positioned once close to the other and a single piece upper mat thickness 10 cm for the whole surface. Blocks and upper mat are than covered by weatherproof btex synthetic material with upper side made of netting anit-spike material. Including extra waterproof covering cap. Made in EU.
Another sports equipment from category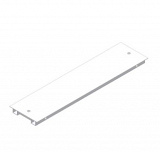 Blanking lid without edges for competition take-off board
Article: AVDM1059
Material: Aluminium.
Colour: White, grey.
This blanking lid without edges for competition take—off board is to be positionned in the installation tray in place of the take—off board when this one is not used. Flat surface for easy synthetic track surfacing (to stick). Made from 4 mm striated aluminum. Leveling bolts for a perfect adjustment to the track level. Made in EU.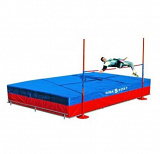 Physical education high jump landing system
Article: AVDM1036
Dimensions: 4.50 X 2.50 X 0.50 M
Colour: Blue, red
Each block is equipped with sturdy carry handles.
The block filler is made of polyurethane foam with a density of 24 kg / m?.
Made in EU.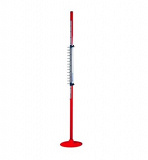 Multi-position high jump standards
Article: AVDM1046
Heights from 0.60 to 2.20 m.
Colour: Blue, red, white.
Allows the crossbar or elastic tape to be quickly positionned at various heights using 14 bar rest pins placed every 5 cm. Heavy base to avoid any risk of falling over. Made in EU.