Pole vault landing area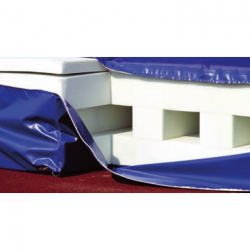 Article:

AVSS1172

Dimensions: 800x600x80 cm.

Pole vault landing area. Interior made of specially designed foam blocks to be positioned once close to the other and a single piece upper mat thickness 10 cm for the whole surface. Blocks and upper mat are than covered by weatherproof btex synthetic material with upper side made of netting anit-spike material. Including extra waterproof covering cap. Dimensions 600x800x80 cm with sliding front sides 3 mt long. Made in EU.
Another sports equipment from category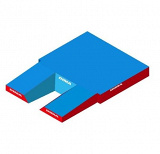 Federal comfort plus single cover pole vault landing system.
Article: AVDM1009
Dimensions: 7.50 X 5.50 X 0.80 / 0.50 m
Colour: Red, blue
Level: F.F.A / I.A.A.F LEVEL 1
Compliance with: NF EN 12503—2 type 11 certified.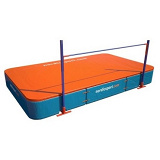 High Jump Pit Olympic 2. IAAF certificate.
Article: AVNO0033
Competition pit consist of 3 base units to IAAF regulations. 670x400x80 cm.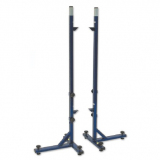 Pair of high jump stands
Article:AVSS1155
Сrossbar's height adjustment up to 250 cm.