Basic high jump landing system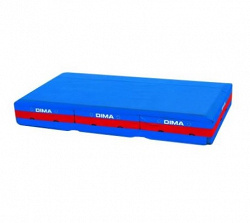 Article:

AVDM1037

Dimensions: 5.00 X 2.50 X 0.60 M

Colour: Blue, red

Compliance with: NF EN 12503-1 type 8 and NF-EN 12503-2 types 9 and 10 certified.

Modular construction, composed of 3 interlocking mats + 1 spike-proof top mat.
Each block is equipped with sturdy carry handles.
The upper mat is 7 cm thick with a cover made of material that protects from studded shoes.
The block filler is made of polyurethane foam with a density of 24 kg / m³.
Blocks, mats connected by belts.
Made in EU.
Another sports equipment from category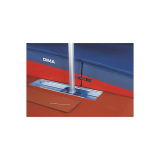 Standard rail to be embedded with sliding cart and cover
Article: AVDM1200
Ideal for indoor use or for multi—sport areas.
Rails made of high quality steel, fitted into an aluminum frame box for a controlled and safe installation. Lid to be covered with synthetic.
Width of the frame : 380 mm
Length of the frame and rail: 1500 mm
Width of rail : 350 mm
The sliding carts can be equipped with either ref. AVDM1028 or AVDM1029 pole—vault uprights.
Made in EU.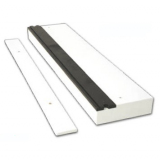 Long jump and triple jump board
Article:AVSS1436
Varnished sturdy wooden long jump and triple jump board enamel finish. Nr 2 wooden insert boards varnished in contrasting colour, one of them having edges for plasticine.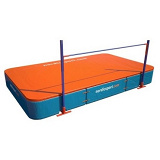 High Jump Pit Olympic 2. IAAF certificate.
Article: AVNO0033
Competition pit consist of 3 base units to IAAF regulations. 670x400x80 cm.