Cover Mat "Competition"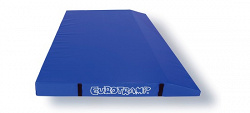 Article:

AVSP1011

Made in EU.

When used with the extra frame, this cover mat offers the best safety standards for training and in competition.

Set consists of

2 cover mats

2 wedges

Characteristics

[Mat (LxWxH):] Approx. 300x200x20 cm

[Wedge (LxWxH):] Approx. 300x40x20 cm

Made from high quality PE foam With non-tear PVC canvas cover Trampoline and additional frame not included The cover made is made from high quality PE foam and will provide optimum shock absorption and greatly minimise the risk of injury. The wedge can be removed in a short period of time. The mats can also be used elsewhere if require
Another sports equipment from category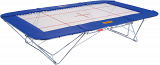 Trampoline "Grand Master Super Special"
Article: AVSP1004
Made in EU.
Best suited to club sports, school sports and therapy use.
Trampoline bed made from 13—mm—wide nylon strands
Frame entirely covered by shock—absorbing padding.
Versions
With 1 pair of rolling stands
With 1 pair of rolling stands with lift
With 1 pair of Safe & Comfort rolling stands with lift
Dimensions and weight
Frame outer dimensions (LxW) 520x305 cm.
Weight: 220 kg.
Dimensions when stored
On rolling stands with lift (LxWxH) 334x80x220 cm or 197 cm when lowered.
On rolling stands (LxWxH) 321x80x220 cm.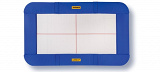 Complete All-Round Frame Padding for the "Grand Master and "Master" trampolines
Article: AVSP1012
Made in EU.
Product details
Made of shock absorbing material
With washable surface
Fixed to frame with hook—and—loop fasteners
Versions
For the "Master" trampoline
For the "Grand Master" trampoline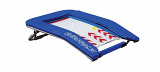 Booster board "Advanced"
Article: AVSP1006
Made in EU.
The "Advanced" booster board combines functionality of a classic springboard with the dynamics, light weight and vaulting of a trampoline.
Size and weight
LxW: 135x100 cm
Approx. 33 kg
Recommended user weight: Up to 60 kg
Height adjustable from 26.5 to 32 cm
[Max. load:] Up to approx. 90 kg
[With trampoline bed, size (LxW):] 93x57 cm