Trampoline "Ultimate 4x4"

Article:

AVSP1002

Compliance whith: FIG

Made in EU.

The trampoline "Ultimate 4x4" has an extremely stable base construction. Using the "Easy Lock" system, the competition trampoline can be quickly set up by just one person. Special ultimate springs ensure optimal dynamics and durability.

Versions

With 1 pair of rolling stand

With 1 pair of rolling stands with lift

With 1 pair of "Safe & Comfort" rolling stand with lift

Available with 3 different options for all-round frame padding

32-mm frame padding, foldable

50-mm frame padding, foldable

50-mm frame padding, will not fold

Dimensions and weight

[Frame outer dimensions (LxWxH):] 520x305x115 cm

Weight: 260 kg

Dimensions when stored

[On rolling stand with lift (LxWxH):] Approx. 334x80x220 cm or 197 cm when lowered

[On rolling stand (LxWxH):] Approx. 321x80x220 cm

Material: Sturdy shock-absorbing frame with double supports is made from galvanised special steel (LxWxH: 520x305x115 cm). The flat-oval tubing base feet are also made from electro-galvanised special steel. Additional struts provide reinforcement and increase the stability when jumping. Double supports ensure the base is very sturdy. 4 rubber plates protect the floor during use. The trampoline bed (LxW: 426x213 cm) consists of 4x4-mm-wide nylon bands. Tensioning of the trampoline takes place via 100 electro-galvanised steel springs (length: 258 mm, ? 39 mm). The maximum immersion depth is 115 cm. In order to use the competition trampoline in the best possible way, a ceiling height of at least 7 m is recommended.
Another sports equipment from category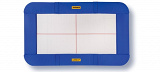 Complete All-Round Frame Padding for the "Grand Master and "Master" trampolines
Article: AVSP1012
Made in EU.
Product details
Made of shock absorbing material
With washable surface
Fixed to frame with hook—and—loop fasteners
Versions
For the "Master" trampoline
For the "Grand Master" trampoline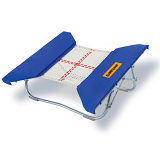 Minitramp "School" open-end
Article: AVSP1008
Made in EU.
The "School" open—end minitramp with open frame construction, is ideally suited to use in schools or leisure.
Size and weight
[Frame outer dimensions (LxW):] 120x120 cm.
[Dimensions when folded and stored (LxWxH:] ) 140x125x12 cm.
Required room height: Approx. 4.5 to 5 m.
Weight: 38.5 kg.
Can hold up to 90 kg.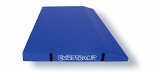 Cover Mat "Competition"
Article: AVSP1011
Made in EU.
When used with the extra frame, this cover mat offers the best safety standards for training and in competition.
Set consists of
2 cover mats
2 wedges
Characteristics
[Mat (LxWxH):] Approx. 300x200x20 cm
[Wedge (LxWxH):] Approx. 300x40x20 cm