"Universal" Additional Frame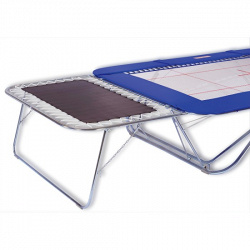 Article:

AVSP1010

Compliance whith: FIG

Made in EU.

The additional frames with support mat the optimal level of of safety for training and competition.

The ideal addition to all Ultimate, Grand Master and Premium trampolines

Dimensions and weight

[Dimensions when assembled (LxWxH):] 265x185x115 cm (1 frame)

[Dimensions when stored (LxWxH):] 265x185x7 cm (1 frame)

Approx. 90 kg (1 pair)

Material: The frame is 108 or 115 cm high and is made of galvanised flat oval tubing (LxW: 185x265 cm). The round tubing legs are also made of special galvanised steel. The elasticated trampoline bed is attached to the frame using rubber cables (? approx. 11.4 mm). Trampoline and mat not included.
Another sports equipment from category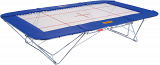 Trampoline "Grand Master Super Special"
Article: AVSP1004
Made in EU.
Best suited to club sports, school sports and therapy use.
Trampoline bed made from 13—mm—wide nylon strands
Frame entirely covered by shock—absorbing padding.
Versions
With 1 pair of rolling stands
With 1 pair of rolling stands with lift
With 1 pair of Safe & Comfort rolling stands with lift
Dimensions and weight
Frame outer dimensions (LxW) 520x305 cm.
Weight: 220 kg.
Dimensions when stored
On rolling stands with lift (LxWxH) 334x80x220 cm or 197 cm when lowered.
On rolling stands (LxWxH) 321x80x220 cm.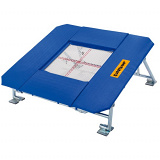 Minitramp "Teamgym Premium"
Article: AVSP1005
Made in EU.
The "Teamgym Premium" minitramp is perfect for all gymnasts looking for a trampoline with excellent stability, sturdiness and extraordinary rebound. The frame is made from electrogalvanised special steel and features shock—absorbing padding. The feet have large, movable surfaces and four rubber plates protect the floor. The feet are adjustable both in height and angle, from 23.7 to 28.5 cm (14° to 27°).
Dimensions and weight
[Frame outer dimensions (LxW):] 125x130 cm
[Dimensions when folded and stored (LxWxH:] ) 140x125x15 cm
[Trampoline bed dimensions (LxW):] 60x60 cm
Weight: 58 kg
Can hold up to 90 kg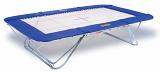 Trampoline "Grand Master Exclusive 6x4"
Article: AVSP1001
Made in EU.
With high—precision made trampoline bed made from 6x4—mm—wide nylon strands. With reinforced corner springs for increased stability
Versions
With 1 pair of rolling stands
With 1 pair of rolling stands with lift
With 1 pair of "Safe & Comfort" rolling stands with lift
Dimensions and weight
Frame outer dimensions (LxW) 520x305 cm.
Weight: 250 kg.
Dimensions when stored
On rolling stands with lift (LxWxH) 334x80x220 cm or 197 cm when lowered.
On rolling stands (LxWxH) 321x80x220 cm