Minitramp "Teamgym Premium"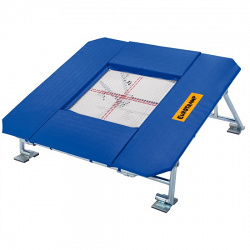 Article:

AVSP1005

Made in EU.

The "Teamgym Premium" minitramp is perfect for all gymnasts looking for a trampoline with excellent stability, sturdiness and extraordinary rebound. The frame is made from electrogalvanised special steel and features shock-absorbing padding. The feet have large, movable surfaces and four rubber plates protect the floor. The feet are adjustable both in height and angle, from 23.7 to 28.5 cm (14° to 27°).

Dimensions and weight

[Frame outer dimensions (LxW):] 125x130 cm

[Dimensions when folded and stored (LxWxH:] ) 140x125x15 cm

[Trampoline bed dimensions (LxW):] 60x60 cm

Weight: 58 kg

Can hold up to 90 kg

Product information: Trampoline bed dimensions (LxW): 60x60 cm Frame and base feet made from electrogalvanised special steel With shock-absorbing frame padding Trampoline bed consists of 6-mm inter-woven nylon strands. 36 electrogalvanised steel springs (length: 185 mm, d 32 mm) tension the jumping mat Maximum immersion depth: 51.1 cm Base feet with large, movable surface. 4 rubber plates. Individually height adjustable.
Another sports equipment from category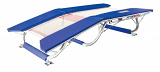 Double Minitramp "Ultimate DMT 6x6" - FIG Certificated
Article: AVSP1009
Made in EU.
Compliance whith: FIG
Innovative 6x6—mm high—performance trampoline bed for a higher rebound.
Optimised immersion depth in the centre of the trampoline bed for more safety.
New frame covering – efficient, safe, long lasting with newly padded exit zone.
Dimensions and weight
Trampoline: 194x25x190 cm
Rolling stands (2 items), 70x21x118 cm (8.6 kg)
[Dimensions when stored on rolling stands (LxWxH):] 215x70x197 cm
Approx. 140 kg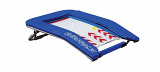 Booster board "Advanced"
Article: AVSP1006
Made in EU.
The "Advanced" booster board combines functionality of a classic springboard with the dynamics, light weight and vaulting of a trampoline.
Size and weight
LxW: 135x100 cm
Approx. 33 kg
Recommended user weight: Up to 60 kg
Height adjustable from 26.5 to 32 cm
[Max. load:] Up to approx. 90 kg
[With trampoline bed, size (LxW):] 93x57 cm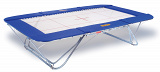 Trampoline "Grand Master Exclusive 6x6"
Article: AVSP1003
Compliance whith: FIG
Made in EU.
With high—precision made trampoline bed made from 6x6—mm—wide nylon strands. With reinforced corner springs for increased stability
Versions
With 1 pair of rolling stands
With 1 pair of rolling stands with lift
With 1 pair of "Safe & Comfort" rolling stands with lift
Dimensions and weight
Frame outer dimensions (LxW) 520x305 cm.
Weight: 250 kg.
Dimensions when stored
On rolling stands with lift (LxWxH) 334x80x220 cm or 197 cm when lowered.
On rolling stands (LxWxH) 321x80x220 cm