Booster board "Advanced"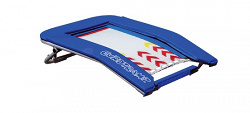 Article:

AVSP1006

Made in EU.

The "Advanced" booster board combines functionality of a classic springboard with the dynamics, light weight and vaulting of a trampoline.

Size and weight

LxW: 135x100 cm

Approx. 33 kg

Recommended user weight: Up to 60 kg

Height adjustable from 26.5 to 32 cm

[Max. load:] Up to approx. 90 kg

[With trampoline bed, size (LxW):] 93x57 cm

Uses: In recreational, popular and school sports, as a teaching aid for apparatus and artistic gymnastics, as a springboard for indoor obstacle courses and free running, because can also be used for vaults on one leg. Suitable for beginners and advanced athletes of all ages. The height of the board can quickly and easily be adjusted from 26.5 to 32 cm. The unique spring cover protection system guarantees the highest safety standard. The integrated castors make it easy to move around.
Another sports equipment from category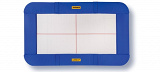 Complete All-Round Frame Padding for the "Grand Master and "Master" trampolines
Article: AVSP1012
Made in EU.
Product details
Made of shock absorbing material
With washable surface
Fixed to frame with hook—and—loop fasteners
Versions
For the "Master" trampoline
For the "Grand Master" trampoline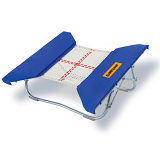 Minitramp "School" open-end
Article: AVSP1008
Made in EU.
The "School" open—end minitramp with open frame construction, is ideally suited to use in schools or leisure.
Size and weight
[Frame outer dimensions (LxW):] 120x120 cm.
[Dimensions when folded and stored (LxWxH:] ) 140x125x12 cm.
Required room height: Approx. 4.5 to 5 m.
Weight: 38.5 kg.
Can hold up to 90 kg.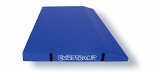 Cover Mat "Competition"
Article: AVSP1011
Made in EU.
When used with the extra frame, this cover mat offers the best safety standards for training and in competition.
Set consists of
2 cover mats
2 wedges
Characteristics
[Mat (LxWxH):] Approx. 300x200x20 cm
[Wedge (LxWxH):] Approx. 300x40x20 cm