Booster board "Advanced"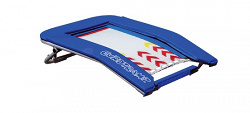 Article:

AVSP1006

Made in EU.

The "Advanced" booster board combines functionality of a classic springboard with the dynamics, light weight and vaulting of a trampoline.

Size and weight

LxW: 135x100 cm

Approx. 33 kg

Recommended user weight: Up to 60 kg

Height adjustable from 26.5 to 32 cm

[Max. load:] Up to approx. 90 kg

[With trampoline bed, size (LxW):] 93x57 cm

Uses: In recreational, popular and school sports, as a teaching aid for apparatus and artistic gymnastics, as a springboard for indoor obstacle courses and free running, because can also be used for vaults on one leg. Suitable for beginners and advanced athletes of all ages. The height of the board can quickly and easily be adjusted from 26.5 to 32 cm. The unique spring cover protection system guarantees the highest safety standard. The integrated castors make it easy to move around.
Another sports equipment from category

Trampoline "Ultimate 4x4"
Article: AVSP1002
Compliance whith: FIG
Made in EU.
The trampoline "Ultimate 4x4" has an extremely stable base construction. Using the "Easy Lock" system, the competition trampoline can be quickly set up by just one person. Special ultimate springs ensure optimal dynamics and durability.
Versions
With 1 pair of rolling stand
With 1 pair of rolling stands with lift
With 1 pair of "Safe & Comfort" rolling stand with lift
Available with 3 different options for all—round frame padding
32—mm frame padding, foldable
50—mm frame padding, foldable
50—mm frame padding, will not fold
Dimensions and weight
[Frame outer dimensions (LxWxH):] 520x305x115 cm
Weight: 260 kg
Dimensions when stored
[On rolling stand with lift (LxWxH):] Approx. 334x80x220 cm or 197 cm when lowered
[On rolling stand (LxWxH):] Approx. 321x80x220 cm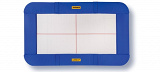 Complete All-Round Frame Padding for the "Grand Master and "Master" trampolines
Article: AVSP1012
Made in EU.
Product details
Made of shock absorbing material
With washable surface
Fixed to frame with hook—and—loop fasteners
Versions
For the "Master" trampoline
For the "Grand Master" trampoline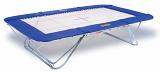 Trampoline "Grand Master Exclusive 6x4"
Article: AVSP1001
Made in EU.
With high—precision made trampoline bed made from 6x4—mm—wide nylon strands. With reinforced corner springs for increased stability
Versions
With 1 pair of rolling stands
With 1 pair of rolling stands with lift
With 1 pair of "Safe & Comfort" rolling stands with lift
Dimensions and weight
Frame outer dimensions (LxW) 520x305 cm.
Weight: 250 kg.
Dimensions when stored
On rolling stands with lift (LxWxH) 334x80x220 cm or 197 cm when lowered.
On rolling stands (LxWxH) 321x80x220 cm