Mobile sports floor S20 - FIBA/ IHF certified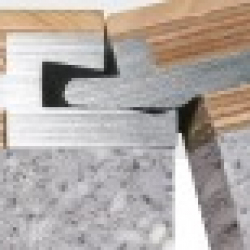 Article:

AVSL1001

Made in: EU

Compliance with:FIBA/ IHF certified

Technical description:

Top layer: 3.6 mm parquet wear layer.

Wood species: oak and hard maple.

Varnish colors: upon request.

Middle layer: 15 mm special plywood in accordance with EN 13986 - EN 636-2S.

Interlocking: Patented ® aluminium interlocking system.

Bottom layer: 18 mm laminate composite foam

Total thickness: approx. 37 mm.

Module size: 2470 x 613 mm (1.51 m² per module)

Weight: approx. 24 kg per module / approx. 16 kg per m².

The elastic mobile Sportsfloor S20 with the patented interlocking system and the low weight of the modules ensure most safe and easy handling.

The elasticized composite foam layer is integrated into the module and does not have to be laid separately beforehand. This way, the seamless foam always lays flat whenever the floor is installed, and can simply be stored with the module.
The surrounding wedge-shaped border is also permanently joined to the modules and therefore, does not require additional fitting.
The system has been tested in accordance with EN 14904:2006 and is approved by the International Basketball Federation FIBA (International competition levels 1 & 2 ).
Approved by the International Handball Federation IHF.
The systems' fire behavi­our is tested according to EN 13501-1 : Cfl-s1.
Another sports equipment from category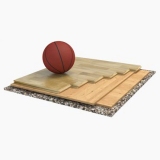 Sport floor series 1007
Article:AVSE1007
Material: Solid wood Hevea
Dimensions: Thickness parquet element: 22 mm
Total thickness 61 mm.
Purpose: Competition, Training activitites
Compliance with: FIBA certified
Parquet floor for multipurpose gyms, a very robust solution, the double layer plywood is a guarantee of stability and durability.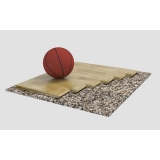 Sport floor series 1001
Article:AVSE1001
Material: Solid wood Hevea
Dimensions: Thickness parquet element: 22 mm
Total thickness 37 mm.
Purpose: Training
Additional: Basic sports floor to approach solid wood; this system in particular is really simple because of its easy carrying out.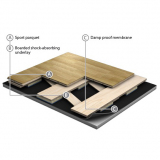 Sport parquet series 2020 - FIBA
Article:AVGR1013
Made in: EU
Material: Parquet, boarder shock—absorbing underlay, damp proof membrance.
Dimensions: Thickness: 39 mm
Weight: 11,5 kg/m2
Colour: Ash nature, ash rustic, oak dark, oak nature.
Compliance with: FIBA.