Sport floor series 1001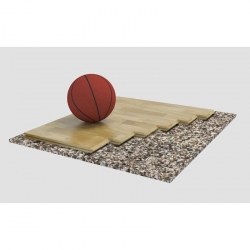 Article:

AVSE1001

Material: Solid wood Hevea

Dimensions: Thickness parquet element: 22 mm

Total thickness 37 mm.

Purpose: Training

Additional: Basic sports floor to approach solid wood; this system in particular is really simple because of its easy carrying out.

Technical description:
• Laying of a polyethylene sheet - 0,20 mm thickness - as anti-steam barrier on the concrete.
• Laying of PUR elastic layer, 15 mm thickness, in order to make the floor uniformly resilient.
• Laying of parquet staves, 22 mm thickness, 129 mm width, 1830 mm length, made of HEVEA WOOD, settled in the "deck bridge" way. These staves are pre-lacquered in factory and supplied at a humidity of 9-11%. The staves made of solid Hevea (22 mm thickness) have tongue-and-groove joint on all sides, and are made of a couple of staves (two-strips, pre-assembled) having "finger-jointed" connection, also known as dovetail, and are fixed with metal clips, namely 17 pcs/sqm.
Total thickness 37mm.
Certifications:
• EN 14904 Sports Flooring Certifications.
• EN 13501 Fire resistance Certificate.
Made in: EU
Another sports equipment from category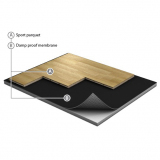 Sport parquet series 2100
Article:AVGR1014
Made in: EU
Material: Parquet, 5G click system, board HDF, boarder shock—absorbing underlay.
Dimensions: Thickness: 28 mm
Weight: 10,3 kg/m2
Colour: Ash nature, oak dark, oak nature.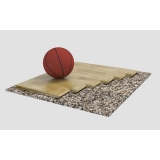 Sport floor series 1001
Article:AVSE1001
Material: Solid wood Hevea
Dimensions: Thickness parquet element: 22 mm
Total thickness 37 mm.
Purpose: Training
Additional: Basic sports floor to approach solid wood; this system in particular is really simple because of its easy carrying out.