Discs Classic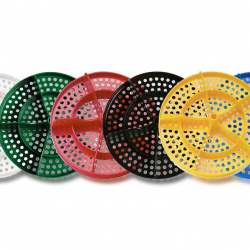 Article:

AVML1045

Made in: EU

Material: polythene.

Sold per set of 2 pcs.

100 mm in diameter - the standard colors of red, yellow, white, blue, green and black. Other colors available upon special order. UV protected.

Normally there is a donut (sold separately) in between each disc.

Each Malmsten Racing Lane Line is assembled with certain pattern of discs, with a unique flow through technology, and floats in order to reduce water turbulence.
Another sports equipment from category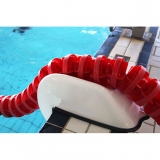 Competitor Lane Slider
Article: AVML1012
Made in: EU
Make you Competitor Racing Lane last longer! The Competitor Racing Lane runs smoothly over the Lane Slider and will therefore not be damaged from the hard edge of the pool. It also spares the pool edge from wear and tear and makes the taking—up a lot easier.
Size: 62 x 38 x 44 cm. Weight: 3,3 kg.
Made of glassfiber reinforced vinylester.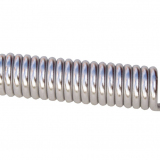 Tension spring lane line
Article: AVML1071
Made in: EU
Dimensions:
Length: 16,6 cm
Diameter: Ø 3,2 cm
The thickness of the hook is 6 mm
Made with SS AISI316
Weight: 0,412 kg.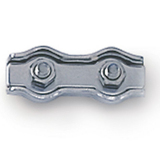 Wire lock lane line
Article: AVML1078
Made in: EU
To be used with wire Ø 4 mm.
Stainless steel AISI 316.