Discs Classic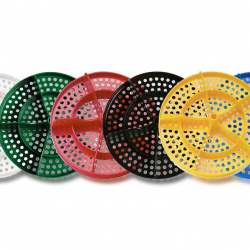 Article:

AVML1045

Made in: EU

Material: polythene.

Sold per set of 2 pcs.

100 mm in diameter - the standard colors of red, yellow, white, blue, green and black. Other colors available upon special order. UV protected.

Normally there is a donut (sold separately) in between each disc.

Each Malmsten Racing Lane Line is assembled with certain pattern of discs, with a unique flow through technology, and floats in order to reduce water turbulence.
Another sports equipment from category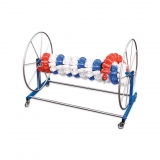 Storage trolley lane line
Article: AVML1013
Made in: EU
Material: 316L stainless steel, blue powder coated center beam for added corrosion protection.
Available in 2 sizes.
1. Size: 1910x1250x1410 mm
Capacity: 150 m dividing track Classic or 75 m dividing path
Gold / Gold PRO
2. Size: 2450x1250x1410 mm
Capacity: 200 m. Classic dividing track or 100 m. Gold / Gold PRO dividing track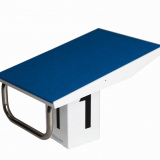 Starting Block Classic - FINA
Article: AVML1032
Made in: EU
Material: Stainless steel 316 L, anti—slip cover
Height: 400 mm (or 350, 300), Top: 500x700 mm, Pool edge width: min. 300— 500 mm
Colour: Classic: Blue
Possible: Yellow, Green, Purple, Black, Tile red, Mild grey, Dark grey
Compliance with: Made according to FINA rules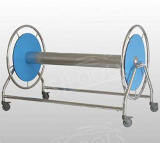 Storage reel small
Article: AVIN1027
Made in: EU
Storage reel stainless steel AISI 316 and HPL plastic laminate, mounted on 4 rubber—coated stainless steel swivel wheels with brakes. Capacity 3 lanes 25m, ø110 mm or 1 lane 25m, ø150mm.