Gold Racing Lane Line - FINA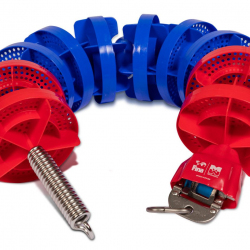 Article:

AVML1005

Made in: EU

Discs: Ø 150 mm (6")

Lengths: 25, 50m or made to measure.

Available in FINA official colors,

Original Malmsten Blue/White or custom color combinations.

Color Options: White, Red, Yellow, Green, Blue, Black, Orange and Purple

Official FINA Racing Lanes, in accordance with FINA regulation FR.2.6.1

Wave Energy Dampening: 87,50%
Flow-through technique
Designed for minimal water bounce back
Each disc rotating individually
Excellent durability
Lanes are delivered complete with Take-up Reel and Tension Spring
Another sports equipment from category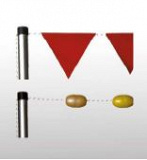 Signal pole
Article: AVIN1005
Made in: EU
Material: Stainless steel
Dimensions: Pipe with a diameter of 45 mm, length about 2000 mm.
Color: Silver
They are installed in glasses laid on the side of the pool.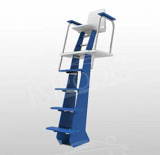 Surveillance high chair
Article: AVIN1034
Made in: EU
Lifeguard use, permanent or movable, built with stainless steel (AISI 316).
Electro polished or powder painted finishing.
Copolymer no—slip steps and polypropylene chair, both with no—UV treatment.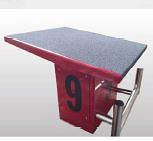 Starting block 1010
Article: AVIN1010
Made in: EU
Material: Stainless steel, Polyester thermosetting resin
Dimensions:
Block size: 500 x 700 mm, Thickness
Colour
Base: White
Platform: Non—slip blue paint, other colors on request.
Purpose: Non—professional competitions, training, amateur sports
Compliance with: Made according to FINA rules
Additional: Wall or any 30cm platform mounting