Backstroke Rope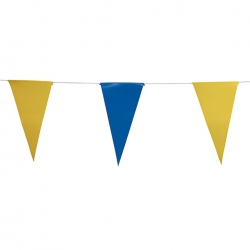 Article: AVML1054
Material: Vinyl/Nylon 650
Dimensions:
Length: 22m or 27m
Flags: Base: 20cm, Sides: 40cm (In accordance with FINA rule FR3.11)
Information:
Available Colors:
All blue flags with Malmsten logo.
Blue/Yellow, Blue/White, Red/Blue, Red/Blue/White
Made in: EU
Another sports equipment from category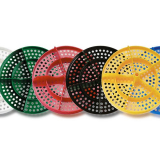 Discs Gold
Article: AVML1022
Material: polythene.
Sold per set of 2 pcs.
150 mm in diameter — the standard colors of red, yellow, white, blue, green and black. Other colors available upon special order. UV protected.
Normally there is a donut (sold separately) in between each disc.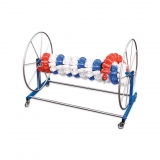 Storage trolley lane line
Article: AVML1013
Material: 316L stainless steel, blue powder coated center beam for added corrosion protection.
4 swivel castors, of which 2 are fixed.
Available in 2 sizes.
1. Size: 1910x1250x1410 mm
Capacity: 150 m dividing track Classic or 75 m dividing path
Gold / Gold PRO
2. Size: 2450x1250x1410 mm
Capacity: 200 m. Classic dividing track or 100 m. Gold / Gold PRO dividing track
Used with hand wheels with a diameter of 1250 mm, which provides excellent grip.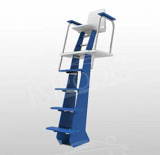 Surveillance high chair
Article: AVIN1034
Level: 4
Lifeguard use, permanent or movable, built with stainless steel (AISI 316).
Electro polished or powder painted finishing.
Copolymer no—slip steps and polypropylene chair, both with no—UV treatment.