False start device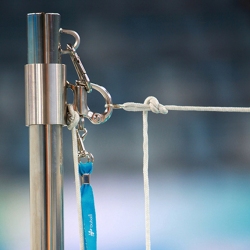 Article: AVML1055
It has an inner diameter of 40 mm and comes equipped with a snap hook for affixing in post eyelet.
Made from stainless steel EN 1.4404
Made in: EU
For attaching a false start lead core nylon rope (sold separately)
Suitable for stainless steel racks (sold separately).
Another sports equipment from category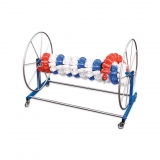 Storage trolley lane line
Article: AVML1013
Material: 316L stainless steel, blue powder coated center beam for added corrosion protection.
4 swivel castors, of which 2 are fixed.
Available in 2 sizes.
1. Size: 1910x1250x1410 mm
Capacity: 150 m dividing track Classic or 75 m dividing path
Gold / Gold PRO
2. Size: 2450x1250x1410 mm
Capacity: 200 m. Classic dividing track or 100 m. Gold / Gold PRO dividing track
Used with hand wheels with a diameter of 1250 mm, which provides excellent grip.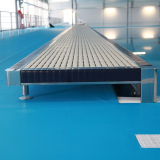 Open face platform for starting blocks
Article: AVML1035
Made from stainless steel (316) frame and supports and with solid PVC lattes with a good anti—slip surface.
Height: 300 mm
Width: 800, 1000 and 1500 mm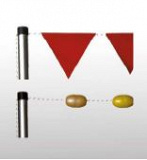 Signal pole
Article: AVIN1005
Material: Stainless steel
Dimensions: Pipe with a diameter of 45 mm, length about 2000 mm.
Color: Silver
They are installed in glasses laid on the side of the pool.