Starting Block Pro with Track Start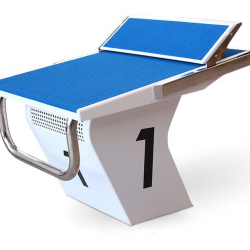 Article: AVML1031
Material: Stainless steel 316 L, еffective anti—slip surface
Dimensions: Height: 400 mm (or 350, 300),
Top: 500x700 mm,
Different size and color options are available upon request
Compliance with: Made according to FINA rules
Made in: EU
Suitable for elevated pool edge
Suitable for pool edge width of minimum 560mm.
The base has an opening where electronic equipment may be placed which can be used during competition.
Starting blocks are numbered 0-9; please confirm preferred number(s) when placing the order.
Another sports equipment from category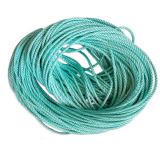 Polythene Rope
Article: AVML1084
Material: Polythene
Dimesions: Ø: 6 mm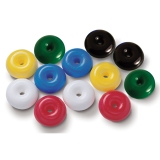 H-floats
Article: AVML1072
Material: Manufactured in polythene HD with UV—protection
Dimesions: Length: 73 mm, Ø: 67 mm and Hole: Ø 10 mm
Weight per float: 27 grams
Available Colors: Yellow, Red, White, Blue and Green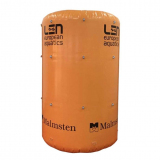 Swim Course Marker-Buoy, Large
Article: AVML1048
Dimensions when inflated:
Height 200 cm Diameter 130 cm
Made in strong plastic material. To be inflated.