Starting Block Pro with Track Start - FINA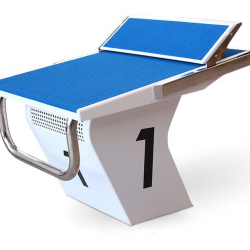 Article:

AVML1031

Made in: EU

Material: Stainless steel 316 L, еffective anti-slip surface

Dimensions: Height: 400 mm (or 350, 300),

Top: 500x700 mm,

Different size and color options are available upon request

Compliance with: Made according to FINA rules

Suitable for elevated pool edge
Suitable for pool edge width of minimum 560mm.
The base has an opening where electronic equipment may be placed which can be used during competition.
Starting blocks are numbered 0-9; please confirm preferred number(s) when placing the order.
Another sports equipment from category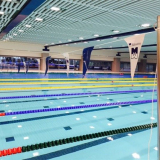 Post for backstroke
Article: AVML1053
Made in: EU
Measurement: Ø 40 x 2 mm, Height 2100 mm.
Material: Stainless steel EN 1.4404.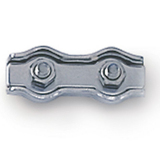 Wire lock lane line
Article: AVML1078
Made in: EU
To be used with wire Ø 4 mm.
Stainless steel AISI 316.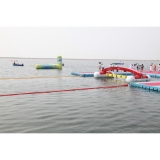 Finishing lines for Open Water
Article: AVML1052
Made in: EU
Size: Ø 100 mm, length 50 m or any other length.
Wire: 4 mm stainless steel
Disks and floats: polyethylene
One line is red, the other is yellow. Alternative colors: white, green, blue, black and orange.
The dye has a minimum additive of 8000ppm UV stabilizer and antioxidant
Color fastness 8 for all colors.