Water Polo Goal Klappex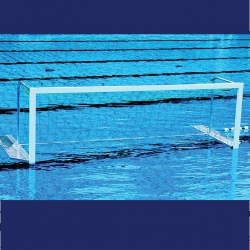 Article: AVML1023
Width 3000 mm.
Height: 900 mm.
The frame is powder coated white.
The floating base is aluminum color.
Made in: EU
It has a sturdy construction with special profiles.
Foam filled base which guarantees a good water position.
Hooks for the net, floating base and weights are included
The net is sold separately
Another sports equipment from category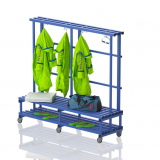 Bench with Coat Rack
Article: AVML1010
Material: Hygenic, Lead Free PVC
Dimensions: 2000 x 600 x 1900 mm
Seat height: 490 mm
Shelf depth: 300 mm.
Available Colors: Aqua, Beige, Blue, Red, Yellow, and Grey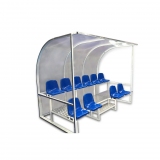 Water Polo Team Bench
Article: AVML1040
Perfect advertising space 3010 x 1280 x 1400mm
Material: aluminum construction, polypropylene seats, polycarbonate panels
Color: powder coated, any RAL color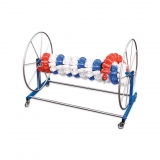 Storage trolley lane line
Article: AVML1013
Material: 316L stainless steel, blue powder coated center beam for added corrosion protection.
4 swivel castors, of which 2 are fixed.
Available in 2 sizes.
1. Size: 1910x1250x1410 mm
Capacity: 150 m dividing track Classic or 75 m dividing path
Gold / Gold PRO
2. Size: 2450x1250x1410 mm
Capacity: 200 m. Classic dividing track or 100 m. Gold / Gold PRO dividing track
Used with hand wheels with a diameter of 1250 mm, which provides excellent grip.