Leather Punching Bag Hook 100 cm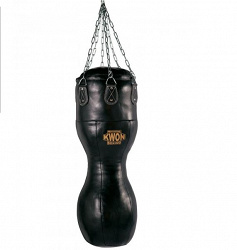 Article: AVKW1009
Level: 3
For boxing training of medium and heavy weight boxers.
Colour: Black
Outer material: 100% genuine leather
Weight: Approx 30 kg
Dimensions: Approx. 100 cm long
Diameter: 35 cm.
Black boxing bag is made of hight-quality 100% buffalo leather. The punching bag is filled with textile strips and is delivered with a robust metal suspension. Made in: EU
Another sports equipment from category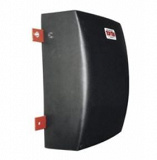 Wall target
Article: AVTT1022
Level: 3
[Wall target. Made of durable, shock absorbent Bayflex®. Dimensions:] 42 x 37 x 13 cm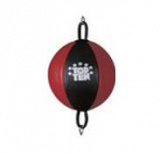 Double-End Ball
Article: AVTT1018
Level: 3
Double—End Ball, genuine leather covered, with two elastic ropes at the ends and reinforced hooks. Steel loops.
For speed and precision training on punch and kicks.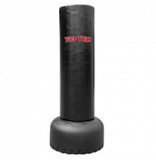 Freestanding Jumbo bag
Article: AVTT1017
Level: 3
The punching bag is made of durable vinyl material and the base is plastic..
The base can be filled with sand or with water.
Dimensions
[— bag ? 44 cm, height:] 134 cm
[— base:]
[? 60 cm, height:] 37 cm
[— total height:] 171 cm
Weight: Empty — 17 kg, filled — 110 kg
Black color.