Freestanding Jumbo bag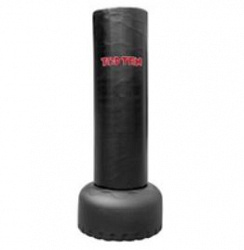 Article: AVTT1017
Level: 3
The punching bag is made of durable vinyl material and the base is plastic..
The base can be filled with sand or with water.
Dimensions
[— bag ? 44 cm, height:] 134 cm
[— base:]
[? 60 cm, height:] 37 cm
[— total height:] 171 cm
Weight: Empty — 17 kg, filled — 110 kg
Black color.
Made in: EU
Another sports equipment from category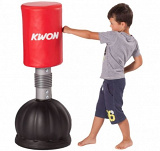 Kid`s Waterbag
Article: AVKW1021
Level: 3
Free standing punch bag for children.
Height: Approx. 106 — 120 cm
Unfilled weight: 8 kg
[Water—filled weight:] 40 kg
Colour: Red/black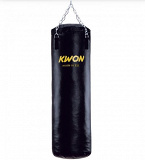 Training Bag Standard 120 cm
Article: AVKW1002
Level: 3
Material: Vinyl, foam insert.
All training bags are supplied with a stainless—steel, chrome—plated chain for hanging and Punching Bag Joint.
Colour: Black
Weight: Approx. 30 kg.
Dimensions: Approx. 120 cm long, 35 cm dia.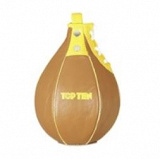 Boxing speedball "retro style"
Article: AVTT1019
Level: 3
SpeedBall genuine leather, balanced for a superfast action and modeled to obtain precise bounces. Made with top quality material and finishes to perform speed.